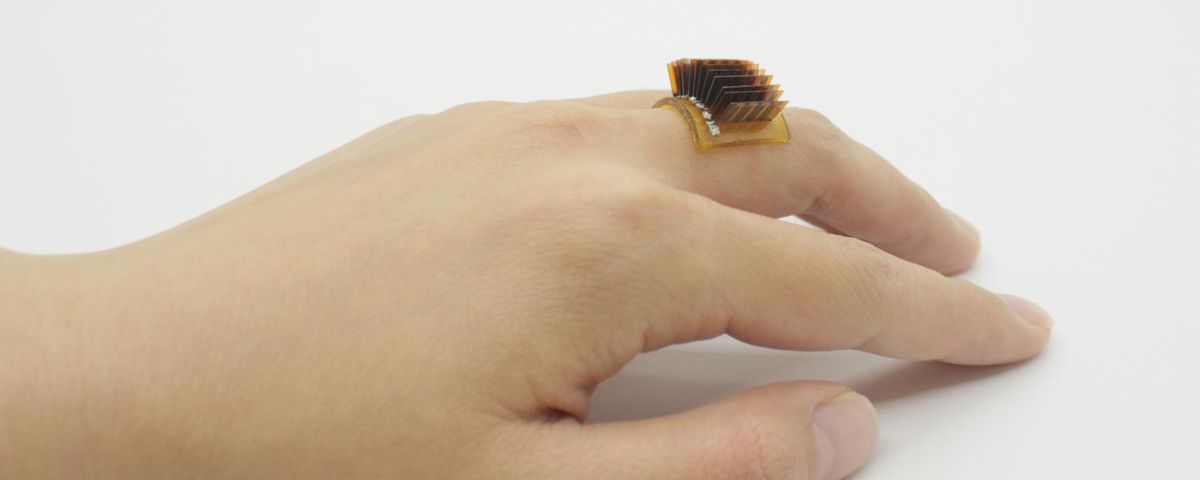 Scientists at the University of Colorado Boulder have made great strides that could change the shape of consumption technology in the next 5 to 10 years. The researchers have developed a low-cost wearable that uses thermoelectric generators to extract energy from the human body, as published in the journal Peer-reviewed Science Advances.
The proof of concept – the ring pictured above – uses a stretched material called polyimine with several thermoelectric chips inserted, connected by molten metal wires.
"Our design makes the whole system accessible without adding too much weight to the thermoelectric material, which can be very fragile," says lead author Jianliang Xiao. "The thermoelectric generators are in close contact with the human body, and can use the heat that would normally be distributed to the environment."
The result is a device that can draw about one bolt of energy for every square centimeter of skin space it takes up. The researchers speculate that a brisk walk with a device the size of a fitness controller could generate around five volts – more than enough of a watchdog battery today.
besides you never have to remember where to put your charger, the design has two other major advantages. First, it's self-healing – if you tear it apart, you can bring two broken heads together and they will reset within minutes. Secondly, it 's about being tech – friendly: if you want to get rid of the device, you can submerge it in a special solution that melts the base while separating the electronics, which can be reused.
"We try to make our devices as cheap and reliable as possible, while at the same time having almost zero impact on the environment," Xiao explained.
Of course, there are many obstacles to overcome, so the 5 to 10-year schedule is called Xiao. But if the kinks are resolved, this could be a game changer for wearable technology, where battery life is often the Achilles heel.
While a handful of consumables manufacturers have tried to design to reduce our reliance on loads, they are by no means common. The PowerWatch Series 2 uses a kind of thermoelectric generation, but is downgraded with a high price of $ 499 and a design that is definitely not for everyone. Similarly, the Garmin Instinct Solar draws power from the sun to offer an additional 54 days of battery life over the regular Garmin Instinct. But it costs an extra $ 100, and just delays the need for expense, rather than eliminating the need altogether.
If Colorado Boulder researchers' promise of a small, low – cost footprint solution is fulfilled, we hope to be able to look forward to a day when wearable chargers will be a distant memory. Just don't expect the technology to mature enough in time for the Apple Watch Series 7.