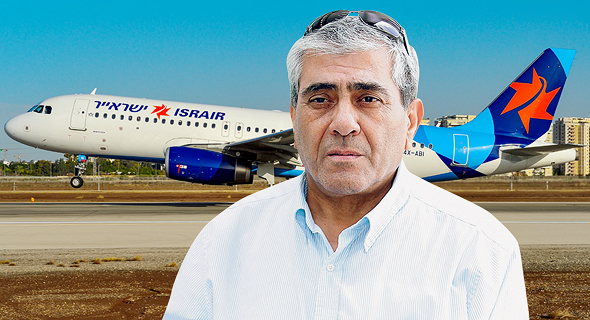 Yigal Damari received the votes of 97% of IDB Series I bondholders for the purchase of Israir, Calcalist has learned. Damari's offer is NIS 170 million, of which NIS 140 million is in cash.
Damari's proposal overtook that of Moti Ben Moshe and Dor Alon. However, his offer was given after the date set by theloyal Ophir is enlightened to transfer the proposals, so Ben Moshe may claim that this is a deviation from the conditions set by the liquidator.
Yigal Damari against the background of an Israir plane
Photo: Uriel Cohen, Moni Shafir
On the other hand, the bond representatives and the Hermetic trustee believe that in any case the highest offer should be accepted, and that Dor Alon itself changed the offer after the deadline.
Both Moti Ben Moshe and Rami Levy are taking legal action to prevent Damari from winning. Ben Moshe and Dor Alon asked the court today to prevent the vote on Damari's proposal, but Judge Hagai Brenner of the district court denied the request and ruled that the allegations could be clarified when Damari's proposal is submitted to the court for approval. Rami Levy complains about the procedure and demands in a letter to Ofir Naor to state his bid as the winner.
The identity of the new owners of Israir will probably be decided in court. According to the liquidator of IDB, which owns Israir, Adv. Ofir Naor, the deadline for submitting bids for the purchase of the airline was last Tuesday at 12:00, and indeed a variety of bids were received – from Rami Levy, Yigal Damari and Moti Ben-Moshe, Who offered the highest amount.
Yesterday, however, the game reopened, ostensibly, when Damari submitted a new offer. On the face of it, Damari did not increase the amount he offered – NIS 143.1 million – and even reduced it to NIS 140.4 million. But he offered IDB Series I bondholders, who hold a lien on Israir, to receive 17% of the airline's shares, so that for the proposed amount he will receive only 83% of the shares. According to Damari's proposal, 17% of Israir's shares will be held in trust. For bondholders until the airline is listed on the Tel Aviv Stock Exchange within a year and a half.
If the company is not issued, Damari undertakes to purchase the shares for NIS 29.5 million, so that his offer actually reflects a price of NIS 170 million for Israir – higher than the offer submitted by Ben-Moshe through Dor Alon under his control – NIS 168.4 million.