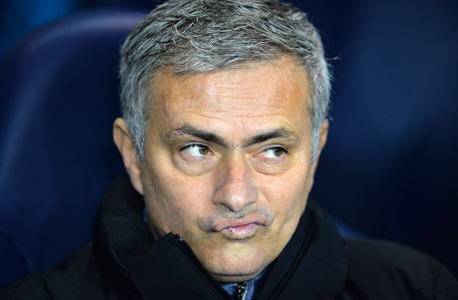 Documentary series do not always reflect reality – certainly not documentary series on sports – but All or Nothing on Tottenham's 2019/20 season presented a number of truths about Jose Mourinho as a coach.

The creators of the series that aired on Amazon filmed an entire season inside Tottenham's locker rooms and management and a number of scenes may explain what are the main problems in the Portuguese coach's management style.

In one scene, Mourinho is angry at his players for being "too nice." "For 90 minutes, you must not be nice!" He warns. "You must be a bunch of cunts (left, no need to translate). Intelligent cunts. No stupid cunts. Bastards who win games!". Mourinho thinks Tottenham are too "nice" to win – which is a message he gives them from the first training session and in almost every briefing.

In another scene, he expresses satisfaction that Hugo Loris, the team captain and team star, Sun Yong-min, are confronted – physically – on the pitch. He called the event "beautiful." "I was critical with the guys because they are not critical of each other," he told reporters. "I asked them to demand more from each other. I asked them to put pressure on each other … I think it's something very important for the team's maturation."

And in another scene, this time in a personal meeting with Harry Kane, Mourinho makes the English striker a personal motivational call – too personal. "The world looks at English football with immense respect but they still think football's movie stars belong elsewhere," Mourinho tells Cain. "And I think we need to build your status in that direction … my profile is a bit like that as a coach. The reality is that my dimension is universal and if you are with me, I think I can help you."

Today, a little over a year into Mourinho's tenure at Tottenham – and after a great start to the 2020/21 season – Tottenham are a mid-table team, 9 points from the top 4, after losing 5 of their last 6 Premier League games. In losses, she scored just 2 and conceded 10. Mourinho with only 81 points from 50 league games – his least in his career after the first 50 league games with other teams.

By comparison, at Manchester United, the club with the fewest professional successes, he scored 95 points in his first 50 league games. And perhaps even more serious for the Portuguese: he does not seem to be able to change the fate of games. In the last 11 games in which Tottenham have been trailing by half, Tottenham have failed to come back to win. The team lost 9 and drew only 2.

Tottenham, under Mauricio Pochettino, was a team famous for the mental resilience its players showed. A team that is very difficult to beat – even if they are led by more than two goals, 10 minutes to the end of the game.

Mourinho, after a weekend loss to West Ham, defended his style of work. "My methods and those of my coaching staff are the best in the world," he said. Mourinho's professional methods may still be the best in the world, but what is clear from watching Tottenham's games is that something there – on a human level – is creaking. Brakes are arguing with each other, players blame each other for mistakes after absorbs and players who excelled at Pochettino – Della Eli, Eric Lamela, Lucas More – look dull and insecure.
Tottenham players (archive)
Photo: getty images
It may very well be related to Mourinho's management style, which encourages players to be unpleasant and critical – which can greatly affect communication between them adversely. Many times players confuse "criticism" with finding fault. And when the situation is bad, the search for the culprits is constant. Every mistake on the court leads a player on the team to look for the culprit in it. This is how the formation crumbles. Especially when individual success and individual aspirations are promoted and maintained by the coach, as in the case of Kane. The striker is recording a very successful personal season but the team is recording its worst season in recent years. Does it come at this expense?
And the most important point, probably: Pochettino believed in the "power of empathy." He believed that if players cared more about each other as human beings, they would fight more for each other on the pitch and argued that as a coach 'you have to feel things the way young players feel, and empathize with them'. That way he managed to get the best out of them and bring Spurs to new heights. Mourinho believes in challenging players publicly (in the locker room, in training and even in the media) and demanding receipts from them. Players who disappoint him "burn out" quickly – without too many explanations (as could be seen in the series in his personal conversation with Danny Rose, the frozen left-back).
This is a training and management method that is not really suitable for so many people.
Is Della Eli, who does not look like 50% of the player he was just a year and a half ago, suffering because of her? Maybe. Only last May he was attacked in his home by an armed gang. Robbers reportedly beat and threatened him and his family and girlfriend with a knife. He is injured internally and it is very likely that the greater trauma is mental and mental. However, Mourinho does not seem to be addressing this at all – certainly not in public. He does not spare the public criticism from him – in the briefing room and also in front of the journalists.
He even noted to the media that "the offensive significance of Della Eli is not good for us." Could a more empathetic and humane approach have helped the talented Englishman more? Is Mourinho the right coach to rehabilitate the player?
Empathy is now a necessary and effective management tool. It increases communication, strengthens relationships and improves managers. Economist Richard Layard even argues that empathy is the most important foundation for good relationships, that they are the foundation of health systems, that they are the foundation of successful societies and a healthy economy. In the Harvard Business Review magazine's empathy index, the 'most empathetic' companies (including Google, Microsoft, Netflix, SAP and Nike) have doubled in value in the last decade more than twice the ten most 'less empathetic' companies, and also generated 50% more profits. .
But Mourinho, as mentioned, does not believe that happiness or joy are necessary for success today. He wants professional and advanced players. He even prefers them to be unhappy if that is what will motivate them. "Every locker room has unhappy players," he told reporters. "If any of us say that the locker room is full only of happy players, I do not think it's true … an unhappy professional will feel that his commitment is to work, to work, to work. .
So it turns out that an unhappy work environment creates an unhappy and inefficient group. Once upon a time Mourinho's locker room lasted two whole years before players felt it. At Tottenham it took a year. Mourinho's best professional methods in the world can not be the best in the world if the players are turned off and not connected.
And it is also possible that Jose Mourinho is no longer suitable for the role of coach at the club. The daily psychological work that the new generation of players needs is not suitable for a coach whose main successes have been with players from another generation. Maybe he should do what he promised himself at the beginning of his career in the Premier League: move at the age of 60 to coach the Portugal national team. The nature of the work in the team is completely different. The tasks are short-term, the stay with the players is limited, maintaining motivation is not a daily craft that requires Sisyphean human effort. In the national team, Mourinho's best practices in the world can prove themselves in a month or two of super-professionalism, blunt honesty and relentless toughness.