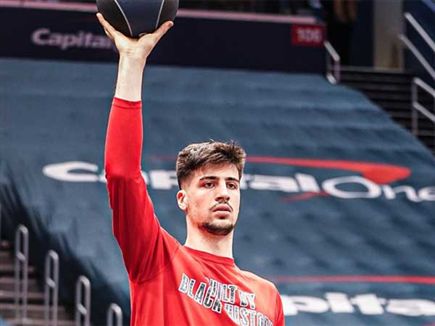 For the second time in a week: Washington and Danny Abdia are playing at a particularly convenient time for the Israeli audience. At 20:00 (Broadcast Direct on 5 SPORT) Abdia and the Wizards will host Boston and its star duo Jason Taitum and Jaylen Brown. The team from the capital hopes to recover after two consecutive losses, which lowered it to a 17: 6 balance, the worst in the NBA.
Washington will rise to face Russell Westbrook, Bradley Bill returning from a break against the New York Knicks, Garrison Matthews, Roy Hachimura and Moe Wagner. This will be the fourth time in a row that the Israeli rookie will not start in the quintet of Scott Brooks, who promised last night that his team will produce a winning streak soon.
It's no secret that Abdia suffers from poor shooting ability. The latter stands at 3 out of 20 off the arc (15%) in the last five games, with none of them scoring a double-digit number of points. In fact, in those games the Wizards didn't score much either. In the last loss to the Knicks they recorded a streak of five games with 30% and down from three, for the first time since 2012.
The last time the two teams met Boston won 107: 116 at TD Garden, and Abdia finished without points (the only game in his NBA career in which he did not score). The Celtics, who are coming to terms after an embarrassing home loss to Detroit, will have to make do tonight without Marcus Smart, Sammy Ogley, Robert Williams and Romeo Langford. Washington will be missing Smith and Anthony Gil.
rise & shine pic.twitter.com/5RtJc5Xq98

– Washington Wizards (@WashWizards) February 14, 2021