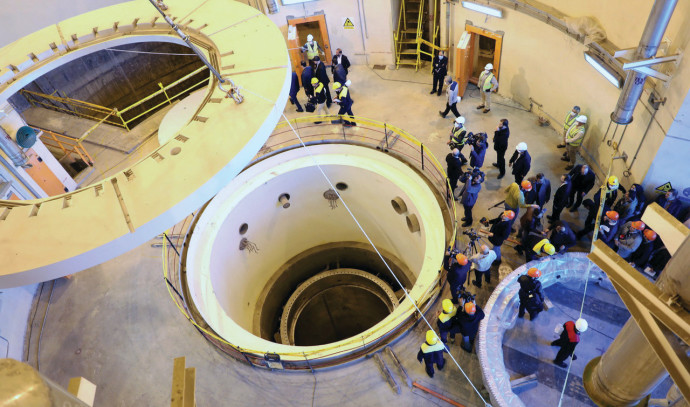 A senior US administration official clarified this morning (Saturday) that from the administration's point of view, the question of who will take the first step back to the nuclear agreement with Iran is irrelevant. "The important thing is not who will take the first step, but whether we will reach agreements on what steps each of the parties will take," he explained. He further noted that the administration does not expect Tehran to fulfill all the clauses of the agreement before the United States takes its own steps.
"It is not our position that Iran will return to abide by the terms of the agreement before anything is done. We agree on reciprocal steps, do not know who will act first, it can happen at the same time, we will be pragmatic on the issue," said the senior official, who remained anonymous.
The explosion at the Natanz reactor. Photo: Arab networks
Since taking office, the president Joe Biden He tried to return to negotiations with Iran regarding a return to the nuclear agreement. This, after the removal of sanctions imposed on Tehran in an attempt to block its path to the development of nuclear weapons. However, no harm has yet been determined between the parties, except that communication is done indirectly through European mediation.
Also, while he was a presidential candidate, Biden was quoted about a year ago as saying: "Tehran must return to meeting the terms of the agreement, if it does – I will join the agreement again." This implies, as Foreign Minister Anthony Blinken later echoed, that the expectation is that Iran is the one to act first. But according to the senior, this is not the case.
About two weeks ago, US State Department spokesman Ned Price stated: "Our patience with Iran is not endless. Every day when the Iranians do not address the issue, our impatience increases. Our initial goal was to work with our allies to advance this issue. We did so and announced That we are ready to sit down at the negotiating table with Iran.
In addition, according to a report by the International Atomic Energy Agency (IAEA), Iran continues to enrich uranium in the sixth cascade of advanced IR-2 centrifuges at the Natanz underground nuclear facility. The fifth waterfall.
The president's predecessor, Donald Trump, withdrew from the agreement in 2018 and renewed sanctions against Iran, which angered her and caused her to violate some clauses of the nuclear deal.