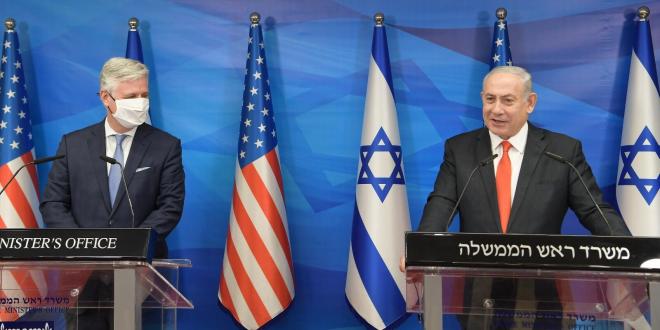 Prime Minister Benjamin Netanyahu met today (Sunday) in his office in Jerusalem with United States National Security Adviser Robert O'Brien. At the beginning of the meeting, Netanyahu said: "The United States and Israel are working more closely together than ever before."
Prime Minister Benjamin Netanyahu spoke: "National Security Adviser O'Brien, Robert, I am pleased to welcome you here in Jerusalem again, together with your staff. You have an excellent ambassador here, our friend David Friedman. I would like to thank you personally for your friendship with the State of Israel, as well as for your wonderful cooperation with our National Security Adviser, Meir Ben Shabbat. Meir is modest, but I am not ashamed to talk about the things he has done with you, because in your joint work, you both have reached outstanding achievements in our two countries.
Mr. Ben Shabbat certainly deserves the award of appreciation from the Ministry of Defense for the exceptional public service that you have now granted him. This is the highest honor the U.S. Department of Defense can bestow on anyone who is not a U.S. citizen. He definitely deserves it and it's very exciting. Thanks.
Led by President Trump, the United States and Israel are working more closely than ever before. We cooperate to thwart common threats, we cooperate in bringing peace. In both of these areas, we have made significant progress. "
The prime minister added that "the Abrahamic agreements have led to historic breakthroughs for peace with four Arab countries: the United Arab Emirates, Bahrain, Sudan and most recently, Morocco. This led to enormous excitement in Israel. Israelis now face a difficult dilemma of where to go, to Dubai or Morocco, Abu Dhabi or Morocco. '
Netanyahu emphasizes that "none of these breakthroughs would have been possible without the partnership, active involvement and leadership of President Trump and his team. So again I say: Thank you President Trump. "
The Prime Minister also addressed the issue of peace with the Palestinians and said that "President Trump's administration has proposed the first realistic plan for Israeli-Palestinian peace. This is the first program of its kind that takes Israel's national and security interests seriously and takes them into account. Therefore, I think that down the road, it will be the only plan that will be implemented. "
In his speech to US President Donald Trump on the recognition of the Golan Heights and the withdrawal of the United States from the nuclear agreement signed with Iran, Netanyahu thanked President Trump for his strategic sovereignty over the Golan Heights. Our close cooperation on national security issues is also evident in our efforts to curb Iranian aggression and its race for the bomb. Instead of pampering tyrants in Tehran, President Trump has adopted a policy of maximum pressure, a policy that is widely supported throughout the Middle East.
Israelis and Arabs praised President Trump when he came out of the worst nuclear deal with Iran, when he returned and even increased the harsh sanctions on Iran and when he eliminated the arch-terrorist Qassem Suleimani. When Israelis and Arabs agree on so many things, it makes sense for the world to pay attention to it. After all, we live in this area, and we know something about it.
As long as Iran continues to subdue and threaten its neighbors, as long as it continues to call for the destruction of Israel, as long as it continues to fund and five terrorist organizations in the region and around the world and as long as it continues its race to acquire nuclear weapons and launchers, we must not return to normal business with Iran . We must unite to fight this threat to world peace.
I say "world peace" because today the Islamic Republic of Iran is the neighborhood bully. If we do not stop it, tomorrow it will have ballistic intercontinental ballistic missiles with nuclear warheads that can hit Europe and America, and it will become a global bully that will endanger everyone. We must and can prevent all this. "All America's friends in the region agree, and I know you, Robert, agree."
"I congratulate you, friend, again. Welcome back to Jerusalem. " Prime Minister Netanyahu concluded.