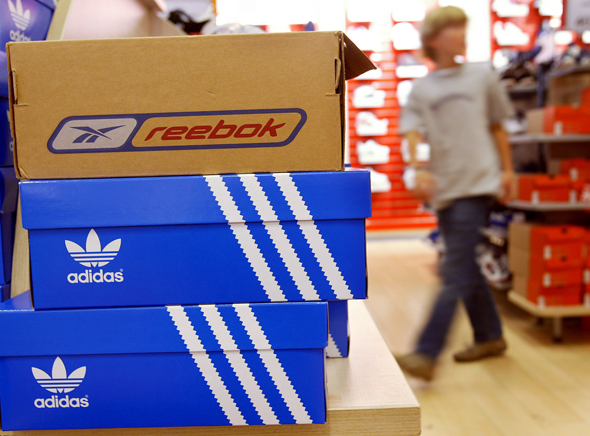 Sportswear and equipment maker Adidas, whose shares are traded on the Frankfurt Stock Exchange worth $ 56 billion, is considering selling the Reebok brand, according to an announcement issued by the German company yesterday (Monday). Company executives explained that they are developing a new five-year plan and are considering Reebok's future role.
"The strategic alternatives we are considering include both a potential sale of Reebok and the retention of the brand as part of the company," a statement issued by Adidas said, adding that the final decision would be announced in March.
Adidas store in Berlin
Photo: Getty
Reebok was a commercial success in the 1990s, largely thanks to the launch of a collection of sneakers from NBA stars of the time: Alan Iverson and Shaquille O'Neal. The company also had a $ 250 million ten-year contract to produce the football league uniforms. However, after the termination of this contract and the competition that intensified in the market, including on the part of companies such as Under Armor and Lolulmon, Reebok ran into difficulties.
Reebok was acquired by Adidas in 2005 for $ 3.8 billion. In the following years, however, sales continued to decline. It was only in 2018, two years after Adidas launched a reorganization plan for the brand, that Reebok reported profitability. This recovery was due in part to districts with singers Ariana Grande and Cardi B, as well as due to the closure of 250 branches.
Still, Adidas is now considering selling Reebok. According to analyst Tom Nickic of Wales Fargo, the reason is that Reebok draws a lot of money from the company. "They have invested a lot of money and effort in trying to increase the brand and improve profitability," he explained to CBS News.
"Billion dollars – a reasonable price for Reebok"
"They achieved profitability but last year the brand grew by only 2%. So they got to the point where they say we did everything we can with this brand. In his estimation, $ 1 billion is a reasonable price for Reebok, and one of the leading candidates for acquisition is VFC, the parent company. Of the Jensport, Timberland and North Pace brands, Nikik added.
For the most recent quarter, which ended Sept. 30, Reebok reported revenue of $ 403 million, down 7% from the same period last year. In a conversation with investors last month, Adidas CEO Caspar Rorstad claimed that Reebok is not attractive enough among running and nature lovers. He further added that Reebok focuses mainly on North America, where recovery from the corona plague is slower than in Europe.