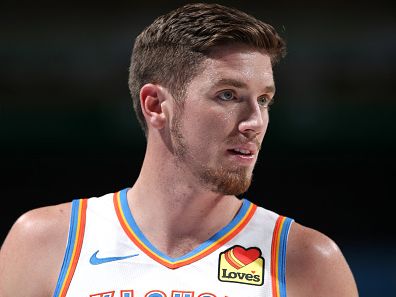 that was fast. Oklahoma City announced this morning (Saturday) the release of TJ Leaf from the team. The Israeli-American power forward joined the Thunder in a trade on November 25, and in two preseason games he recorded eight points and seven rebounds in total. Forward Admiral Scofield was also cut from the roster.
A few days after joining OKC, the Israeli team learned of a significant reinforcement for the upcoming Eurobasket, in the form of Leaf. All parties hoped that after three disappointing years at Indiana Leaf he would be able to leverage his NBA career, but the dream may have come to an end earlier than expected. This morning, by the way, he played 6 minutes in a 105: 103 loss to Chicago.
The 23-year-old Leaf will receive $ 4.3 million as part of his contract, and now he has a difficult task ahead of him: finding a new team. The young forward, who looks very promising somewhere in 2016 alongside Lonzo Ball at UCLA, becomes a free agent for the first time in his career, and given the fact that he failed to screw up OKC's young squad, it's not unlikely we'll see him leave the world's best basketball league.
Leaf was selected 18th in the 2017 draft, and during three seasons in the Pacers uniform he averaged 3.3 points per game alongside 2 rebounds. His peak game came in April 2019, when he scored 28 points and dropped 10 rebounds in a 134: 135 win over Atlanta.
Thunder Waives TJ Leaf and Admiral Schofield.

| https://t.co/pRYB3IG8JH pic.twitter.com/cdKbWWz8tU

– OKC THUNDER (@okcthunder) December 19, 2020