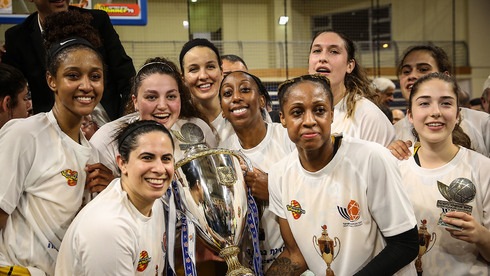 Will the Women's State Cup Games be held in a 'bubble'? An organizing committee, headed by the professional director of Elitzur Ramla Nissim Ron, held a meeting today (Wednesday) and recommended to the union's management to hold the State Cup for Women at the 'Bubble' in Eilat.
Last year the semi-finals and state cup finals for the women did not take place due to the outbreak of the corona crisis and the games were stopped exactly the week before the event. The goal is to hold a special event this year, different from any other year, in Eilat, which recently became a green island.
The semi-finals, which usually take place on Monday, will be postponed to Tuesday 9.3 and the final will take place on Thursday 11.3. The intention is that the teams will arrive in Eilat on Monday, all the teams, together with the staff of the union and the judges will stay in one hotel, which will become a closed 'bubble' to prevent Corona.
The union said that "talks have already taken place with the mayor of Eilat, Meir Yitzhak Halevi, who promised that the city will help as much as possible to hold the event in the most successful way."
The quarterfinals have already been scheduled
Elitzur Ramla – Maccabi Raanana
Maccabi Ashdod – Maccabi Haifa
Ramat Hasharon – Maccabi Urban Raj
Hapoel Petah Tikva – Elitzur Holon