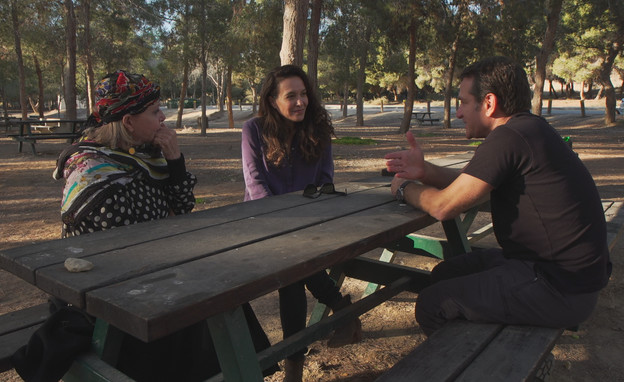 All about mom: As in the mythological coat advertisement in which she burst into consciousness, Yael Abacis always revealed Tefah, but hid Tefahim. On screen she is exposed, but behind the scenes the esteemed actress, director and creator makes sure to keep her private life away from the kind of cameras. Up to now. In a new film she created for "Hot 8", Yael embarks on a fascinating and exciting journey with her mother, singer Raymond Abacis. Between Israel and Morocco, between orphanhood from a father and the care of the younger brother, the old wounds open and with them also a lot of pain, love and reconciliation.
For more updates and to send your stories – visit the news Facebook page
The moving film is mainly about the absence of mother Raymond, who was one of the most successful Moroccan singers in Israel in the 1970s, all with two orphaned children growing up in the background from a father killed in a car accident. "While moving, I was angry about the situation," said Yael. "It was not an easy life but what was the option? To tell my mother that I did not want to be a part of this life? Many times I gave up for her, what to do. This film appeased me."
Yael and Eliel's father was killed when she was 10 and he is a small baby, when they were on their way to the mother's show. After that tragic accident, Raymond Abacis realized that the craft of growing up had only fallen on her: "When I started traveling (to shows) I suddenly felt relieved and then I realized one thing – I love my kids but I can't be their mother, I can't." Raymond told of her relationship with her daughter Yael when she was a child and said she would not even ask her if she ate, "I have not seen her classes. There are mothers who do not know how to be a mother."
The mother's difficulty in raising the children and the anger that accumulated on the part of the children led to a distance between the family members – until Yael decided to put an end to it and along the way also photographed the deep process. "Where I grew up and how I grew up made me who I am," Yael said. "This film shows that I constantly want to be in the process of correction, I am a mother who is full of pucks but this is it. It is not easy to be a mother and make films and be present but when I am present, I am present."
Contrary to the daughter's conciliatory attitude, her little brother Eliel was much more filled with anger at the mother, who allegedly abandoned them. "I caused a lot of suffering to this child," Raymond says in tears about her son Eliel. "I caused a lot of pain and a lot of suffering and I can't fix it, I can't fix it. The damage is deep, it's deep." But despite the pain, Yael explained the process that led her to make it the family film: "It was important for me to make the connection between them. He was much angrier. I know how much she loves him but I also know that sometimes it's hard to say 'I love' ".
Watch the full article from "Ulpan Shishi"