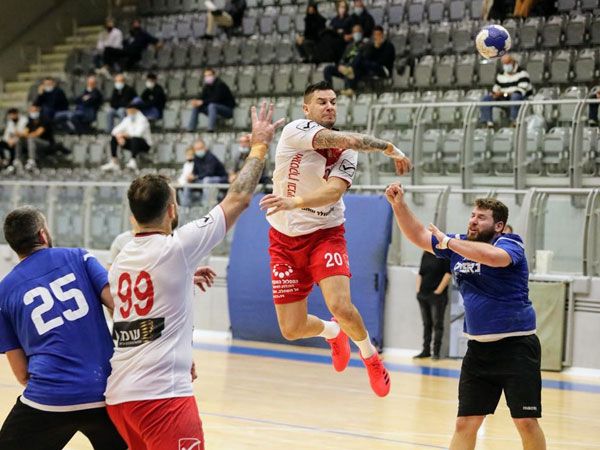 The Upper House and Lower House matches in the handball Premier League kicked off tonight (Monday), despite the fact that there is a rematch left from the first round between AC Nes Ziona and Hapoel Kiryat Ono (will be held on Wednesday – only a victory for the Tigers in 21 goals can prevent Holon from appearing at home Top). Hapoel Rishon LeZion recorded a 35:38 victory in Herzliya. In the lower house, Kiryat Motzkin achieved a victory in Dimona, 27:32, which directs it towards a battle for a place in the playoffs, and complicates Dimona in the struggle for survival after Maccabi Tel Aviv defeated MK Beer Sheva 26 : 34.
The two houses – the top (first 6) and bottom (last 7) ​​are played in one round of games. The top 6 have already secured their place in the playoff quarterfinals. In the bottom, the first two (those who finish in 8-7 places) will also advance to the playoffs. Tomorrow at the Upper House – Hapoel Ashdod will host Maccabi Rishon LeZion (19:00). The third match at the Upper House between Holon / Ness Ziona and AS Ramat Hasharon will take place on 29/30 next month.
On Friday, the second round will be held in the upper and lower house. At the top (15:00 first hour) – Hapoel Rishon LeZion will host AS Ramat Hasharon. Bnei Herzliya will meet Hapoel Ashdod, and MK Holon will host Maccabi Rishon Lezion. In the bottom – Maccabi Kiryat Motzkin will host Maccabi Tel Aviv (15:00), and MK Beer Sheva will host Urbani Rehovot (14:00). The third game between Kiryat Ono and Ness Ziona or Holon – will be held on Saturday night.