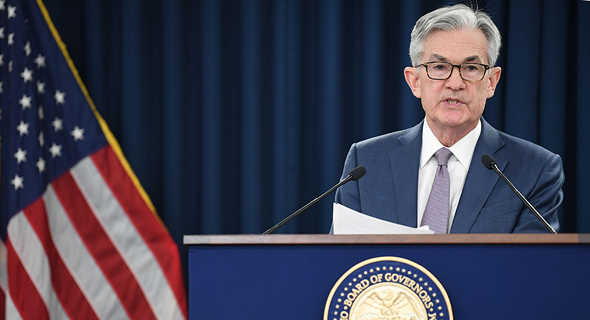 See you in January 2021: The US Federal Reserve, led by Jerome Powell, left interest rates at zero to 0.25% -0% as expected, and announced that it would continue its bond purchases until the US economy recovers. It also raised the economic growth forecast. In 2021 to 4.2% from 4%.
The Fed is changing its unemployment forecast to 5% in 2021 from a previous 5.5% forecast. Undertakes to continue to purchase bonds amounting to at least $ 120 billion each month "until a significant improvement in the Monetary Committee's target of full employment and price stability," the Fed said in a statement.
Already at the beginning of the Fed's press conference, Powell reiterated the central bank's commitment to using its range of tools to support the economy until it is confident that the economy is fully recovered. " .
Fed Chairman
Photo: AFP
A statement issued by the central bank said that "the acquisition of these assets is helping to defeat the smooth operation of the market and adjustments to the financial terms, thus supporting the flow of credit to households and businesses."
The Fed has already pledged in previous meetings not to raise interest rates until inflation exceeds 2%, even if employment returns to normal levels, which usually lead to price pressures. The commitment announced today by the central bank to continue the acquisitions underscores the Fed's commitment to continue with countries that will support the economy until it recovers from the corona crisis.
The market is now also expecting an announcement from Congress on fiscal support, with budget funding on the horizon that will allow for continued federal activity and prevent a devastating downturn in the economy and a new bailout package that will focus on the corona crisis – with direct assistance to residents and hopefully aspiration to businesses.
Nadav Ofir, Global Markets Strategist at Bank Hapoalim's Chamber of Commerce, said in a statement: Dollars in mortgage-backed assets. Central Bank executives led by Governor Powell estimate that interest rates will remain at this level until 2023. With the onset of vaccines around the world including the United States, the central bank expects to see an improvement in macroeconomic data with an emphasis on employment and inflation. However, given the optimistic scenario, most of the committee members do not believe that there is room to raise the interest rate before 2023, as stated. "