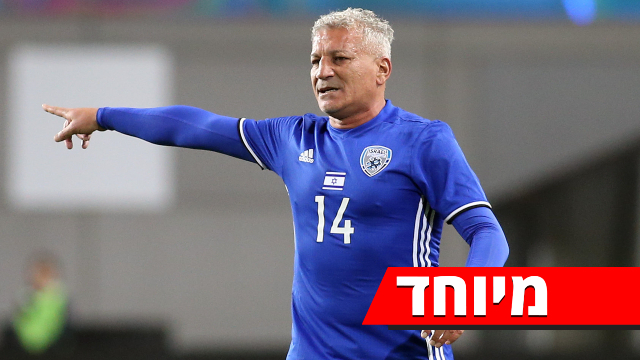 Players who changed positions on the pitch during their careers have already become a kind of curious myth in the world of football, but in the case of Moshe Glam it was a life-changing move. Glam, who grew up as a striker in the youth department of Betar Netanya, was converted at a very young age to the position of left defender – although his strong leg on paper is right. The person responsible for the change was Shia Feigenbaum, who coached him at the beginning of Betar Netanya. And perhaps it is more correct to say that it was the late chairman Bro Hayun.
Also in the project we found the afikoman:
"My first game in the national league (the top league in Israel then), was the Netanya derby, I was 16 and a half years old. We hosted the game, Shia was the coach. When Shigal Menachem got up to warm up at Maccabi, I remember the late chairman Bro Hayun saying to Shia "Heat Glam because Yossi Yonah will not get along with Menachem's speed." Yonah was already a veteran. Menachem came up and even before I had time to enter he made it 0: 1 and only then did I enter. Regarding that team where he made his first steps, Glam says: "It was an amazing team, with Israel Fogel, Vicky Peretz, Shlomo Kirat who repented. I had one goal that season, against Mario Zukowitzky, it hurt me so much
When I heard he passed away this month
".
In the last game of his career, however, Glam is not really able to remember. "Not closed against who it was. It was with Kfar Yona, in the first division at the age of 40. I remember that season, I scored more than 20 goals, I played as a striker. At this point I could no longer burn the line as a defender, against some boy. 18 who sees in front of him Moshe Glam and even more wants to prove himself. "
If you count all three terms at Maccabi Netanya, Glam (52) – until the Corona crisis an active player in the Veterans League – had 11 different stations in Israeli football, most of them in the Premier League, to which should be added 30 appearances in the Israeli national team uniform. With Maccabi Haifa, he won the championship and the cup.
What did you do after retirement?
"At the end of the road I played with the graduates of Kfar Yona and at the same time I managed the youth department. I had six amazing years there. As a player on us from the third division to the first division. The youth department there I gave a score of nine out of 10. There were amazing people, Eric Fox and Moti Timor "I coached a group of children and managed the youth department, I was there until 2012. When I left I continued to work with children in the Hefer Valley at a club that belongs to Vicky Glam (no family connection)."
But then something changed. Maybe in his face, and maybe in the industry he loves so much. "Suddenly I got tired of football, my hunger to give of myself was no longer the same. I met non-caring players, parents who started to play themselves too much. Instead of taking to heart and eating myself, I said it was time to stop. I played for Maccabi Haifa veterans and then I continued In the veterans of Kfar Yona. "
He later served as a football commentator on the radio. "I worked in the B network. I must say that I did not enjoy football, there were moments in front of a full stadium that I wanted to go down to the grass to play. Sometimes I did not understand how you can look so bad, for example as a Maccabi Haifa player when 30,000 people push you. "A player feels the players. The industry has developed in terms of infrastructure, but in net football – we are going backwards in the last 20 years."
Glam has an explanation: "It starts with owners who are easily fired, so every coach is afraid of his chair. Football becomes cowardly. Already in the youth departments, they are first taught how not to lose, and here begins the blessing. What do you come to see? Football is a show, it's a show All the coaches I worked with, Shia, Sharaf, Giora Spiegel, Abram Grant – they all loved happy football and encouraged us to attack. Today, even when the offensive line-up is on paper, an attacking player gets so many defensive tasks he first thinks' only my defender will not be involved. At the gate. "
He also recognizes the same attitude in national team coach Willie Rotensteiner: "Either he made an alibi for himself, or he tried to put the opponent to sleep, but before the game against Denmark I heard him say sentences like 'If we take this point there will be a surprise, our chances are low'. "You have to believe, you can't come as a loser in advance. In France, Sharaf said, 'Come on, attack and enjoy the game,' do you know what confidence that gives a player?"
There are sounds you recognize even without seeing what is happening across the line, and during the interview I hear him lighting a cigarette on the other side. "I have been smoking for 35 years. All my coaches knew this. Out of respect I told them and did not smoke in public. I asked to be judged solely on the basis of ability. Since I was a teenager I would come home from school, throw away my bag and go to football, and I have always kept On my body and I was fit. "
To understand what it exactly means to smoke as a professional footballer, the best indication I could think of was that huge 2: 3 over France in Paris, where Glam was one of the standouts.
Some cigarettes, for example, you smoked the day before this game.
More than a box. All my career I smoked between a box and a half box. I'll tell you more than that, sometimes in half a game, if things were not going well for me, I would go to the bathroom and smoke some half a cigarette fast to relax. I have never touched alcohol or other smoking in my life. "On casino gambling, a topic that has made headlines many times, he says:" I have never crossed the line. I earned well as a footballer and allowed myself. I met at the casino with a lot of active players in big European teams. "
On the fence after a victory in the Maccabi Netanya uniform over Maccabi Tel Aviv (Photo: Reuven Schwartz) " aria-hidden="false"/>
On the fence after a victory in the Maccabi Netanya uniform over Maccabi Tel Aviv
(Photo: Reuven Schwartz)