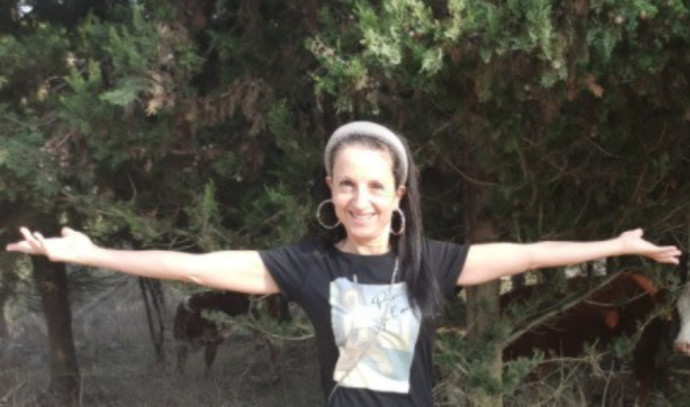 The head of the Samaria Regional Council, Yossi Dagan, responded this morning (Monday) on 103FM to the incident in which Esther Horgan, a mother of six from the town of Tal Menashe in northern Samaria, was murdered. Dagan said that "this is one of the most shocking murders I have seen in my life," and accused the Israeli government of losing deterrence in the face of terrorists: "There is a direct line between the case of a soldier not responding to a Molotov cocktail and a terrorist who sees a woman doing sports near the settlement and allows himself Kill her. "
Dagan, who was involved in the search for Horgan during the evening hours yesterday, described his hard feelings after finding the body. "I had to be the one to deliver the message to the family, I can say this is one of the most shocking murders I have seen. "This is a 52-year-old woman, a young grandmother, a woman who was all light, pure and good," Dagan said of the murdered woman. According to him, the incident is reminiscent of barbarism that was practiced in the Middle Ages.
The 50-year-old was found lifeless in Samaria. Photo: Security cameras
"I want to take advantage of the stage and say that it will be clear to the murderers disgusted by the Palestinian Authority, you will not break us. We will never break. You chose death and infinite evil and we chose life ", Continued the head of the regional council who said that despite everything, the State of Israel will defeat the perpetrators.
Dagan explained that the place where the murdered woman's body was found was very close to her home in Tal Menashe. "It's not a secluded place, it's a deafening three minutes. It's a forest that a lot of people come to do sports and it was specifically its regular route and that of a lot of people living in the area," said the councilor, adding that at first they thought it was just running out of battery or lost. In the area.
Are you afraid of the vaccine for Corona? These are the things you must know Click for details
Finally, Dagan attacked the Israeli government and accused it of losing deterrence in the face of Palestinian terrorists in Judea and Samaria. "This is the main problem. We have the government with the best capabilities in the region, but we have no deterrence," Dagan resented on the broadcast. According to him, There is a direct line that connects the incident in recent days in which a soldier did not respond to a Palestinian terrorist who threw a Molotov cocktail at him, and "a terrorist who sees a woman doing sports in a forest near a residential settlement and allows himself to murder her in a barbaric manner. The government needs to recover, strike at terrorism and build the Land of Israel, "Dagan concluded.
"A bright, sporty, independent and brave woman"
Elazar Roth, chairman of the local resilience team in Tal Menashe, where the late Horgan lived, paid tribute to her on Ben Caspit Winon Magal's program on 103FM: "A woman who is busy making peace between couples, rehabilitating families, an artist, a woman who loves aesthetics and loves life, a mother of 6 children and a grandmother of grandchildren. A wonderful and strong family."
In the territory of the State of Israel, there is no sense of living beyond the line?
"Living in a sense of a pastoral place, a nature reserve with trails and a magical forest with roads some bright and some not."
What is the distance of the village from you?
"From end to end 1,340 feet let's say, something like that."
Tell us about it.
"A bright 52-year-old brave independent sportswoman. A woman who is busy making peace between couples, rehabilitating families, an artist, a woman who loves aesthetics and loves life, a mother of 6 children and a grandmother of grandchildren. A wonderful and strong family."
How many years did you live in the locality?
"For over 20 years. I talked to her husband yesterday. He said we're here and staying here is our place. We have no other place."
How many residents live in Tal Menashe?
"Today we are approaching 150 families. For over 30 years we are still waiting for a settlement symbol. A small and technical detail."
The feeling of complete security?
"When I want I take sneakers and appropriate clothing and I go out and walk as much as I choose to go and come home."
Is there any doubt that this is a terrorist attack?
"I'm going to say, find an independent woman walking alone who's not afraid. That should be said officially. "
All indications are that this is a nationalist event.
"Let's wait for whoever has to say it officially to say it."
I guess it will be said during the day. How many hours did you look for her?
"You do not know what was here, the people of Israel appeared here, there were volunteers from the settlement, in dozens if not in the hundreds, youth and adults and very old, there were soldiers and volunteers from various organizations."
Did you know she wanted to?
"We knew, we were looking around everywhere in the forest in the reserves for paths on the roads, in the houses, in the yards."
When was it found?
"Near 2am at night, our team of volunteers saw signs on the ground and kept searching."
How old are her children?
"The young man is just 13 years old. Right now he is celebrating a bar mitzvah."
boys and girls?
"Four sons, two daughters. Two of the sons are married to the girls of the settlement."