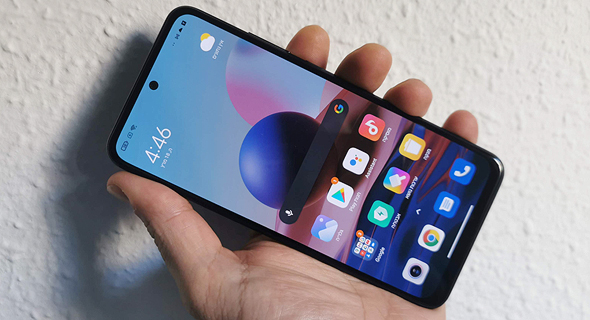 In recent quarters, Shiomi has become the number three manufacturer in the world (after Apple and Samsung) of smartphones. She owes her breakthrough to a unique ability that she has improved over the years – the ability to offer a great deal of device for very little money. This is a trait that Israelis appreciate, one that does not make you a sucker. While there are some compromises on the way to the low price, such as built-in advertisements in the operating system (although today you can avoid most, if not all), compromises in the durability of the components and full of applications that are not really useful to anyone. With the Redmi Note 10, Shiomi manages to dodge at least two of the compromises and the third seems to be non-existent at the moment. So what did the company give up on the way to its working smartphone? About not much, and so it seems.
Design and structure: refined and updated
Let's start with the obvious for anyone with eyes in their head: the Redmi Note 10 is a very handsome device. In contrast to Shiomi's designs in the past, which suffered from a tendency for square boxiness, especially in the cheap devices, the Note 10 is a refined device and its design is very discreet. The back may be made of plastic but it feels like glass, and although it has a tendency to accumulate fingerprints, its metallic gray color gives it a fancy feel. The body of the device is made of metal, and this affects its weight which stands at 179 grams, but proper weight distribution provides a feeling that it is lighter than it really is. And if you thought plastic was too simple, think again, Samsung's new Galaxy S21 is also equipped with a plastic back and costs three times as much as the Note 10. Another advantage of the device's design is pleasant thinness and rounded angles that provide it with a comfortable grip. Its thickness is not impressive on paper (8.3 mm) but as mentioned it is all in the feel and there it wins.
A plastic back that looks like glass
Photo: Rafael Kahan
The assembly quality has also jumped a step in such a cheap device. First there are no sharp or spaced angles anywhere. The buttons provide satisfactory click feedback. The camera defect, though not small enough to store 4 sensors and a flash, does not protrude too much. By the way, Shiomi did not forget to equip the Note 10 with a real headphone jack, a pair of stereo speakers and of course there is the well-known infrared light here to replace the remote you lost under the sofa cushions for the millionth time. All of these are etched directly into the body without additives – a well-known means of saving production costs. For dessert, the device does not have the IP67 or 68 standard of the flagship devices, but unlike many very cheap devices, there is an IP53 protection standard that says that the Note 10 knows how to handle dust, law and splashes of water. Another thing that is not usually seen in cheap devices is 3rd generation gorilla glass that protects the screen, it may not be the latest generation, but it is better than nothing – as usually happens in very cheap devices.
Everything is engraved on the body of the device – but this is a reasonable compromise for a cheap device
Photo: Rafael Kahan
Hardware: more powerful than expected
Let's start with the good stuff. The most impressive part of the device is the super-AMOLED 6.43 screen with Full HD resolution, it is an excellent screen, it is relatively bright with the option to increase the brightness to up to 1,100 nits – an excellent figure – which allows it to easily handle full sunlight. What is not here is a high refresh rate, but between us, although it is a convenient feature it also devours a battery at a higher rate. The processor chosen is Qualcomm's Snapdragon 678, an efficient and fast intermediate processor. It runs the Note 10 like a rabbit trying to dodge a fox, meaning that the feeling obtained in regular use is that of an agile device that does not linger at any stage no matter what. However there are also some problematic points.
The processor makes the difference and the Note 10 is nimble and efficient
Photo: Rafael Kahan
The first point is that the operating memory is only 4GB, which is not very much. Although it is enough for regular daily use but only if you are satisfied with the use of basic applications such as email or WhatsApp. If you want to open games, heavy photo apps or Facebook (which has become a resource eater over the years) then you will start to feel it straining. While one can easily deal with light gaming, such as casual games, try running a voice of duty or fortnight for example and you will start to encounter a blatant reluctance to smooth action. Another limitation of the device is that the opening of apps is a bit slower than premium devices, it is not much, but enough to pay attention.
Do not overload it – it is not yet a premium device
Photo: Rafael Kahan
A second limitation is only 64 GB of storage space. It's not particularly impressive. Although there is also a 128 GB version but the basic device comes with only 64. Although there is an SD slot for a memory card, the difference is in the speed of reading and writing in it which does not correspond to the speed of internal memory. This, by the way, is also the reason why many manufacturers have given up the expansion slot in premium devices, mainly to improve the performance of the system and not just to save costs. And if the storage space is not impressive, the battery actually does, with a capacity of 5,000 mAh, it provides enough power to easily cross between a day and a half and two days of use in quite intensive use that includes a lot of screen time. There is also a 33-watt fast charge here, an excellent figure considering that Samsung offers only 25 watts in the Galaxy S21 for example. On a daily basis this translates to recharging the battery in less than an hour. Very useful on the go.
No NFC chip so no cellular payments or multi-line charging
Photo: Rafael Kahan
A third and perhaps most significant limitation is the lack of an NFC chip. If in the past it was not very bothersome, in the last two years more and more uses have started to come in for it. Mostly payment apps and of course the multi-line that is loaded through it. This means that if you use the e-wallet of one of the credit card companies or you usually charge the multi-line mobile, here you will not be able to do so. In terms of multimedia everything works great, the speakers are powerful and the volume is excellent. Although you will not find headphones in the kit here, but you do have a silicone shield and especially a fast charger – something that is probably going to disappear in the coming years. In short, the hardware may not be the most impressive you can find – but again – in relation to its cost you can not expect too much and the manufacturer has made relatively reasonable compromises here.
Software: There is an improvement, but there are still issues
The disappointing part of Shiomi has always been the software of the devices. I have a lot of criticism for it, for the advertisements that are pushed to every corner, for the multiplicity of useless apps, for the annoying little bugs (more on that later) and for the confusing settings of the interface. But this time also need to give a good word, that Shiomi may not have solved all the problems at once, but at least they show that they are trying. Let's start with the advertisements, with the definition of a new device, the system will allow you to avoid creating a dedicated advertising profile for Shiomi and will even allow you to block most of the advertising in its various applications. However, you will still receive advertisements, much less, but they will appear in different places on the device. The importer, Hamilton, assured us that about 97% of the advertisements will not appear in this way, I did not get to calculate if this is true, but there are definitely fewer of them.
Fewer commercials, but still some bugs
Photo: Rafael Kahan
Another problem that indicates a bit about the quality control in the devices is that sometimes small and annoying bugs are encountered. For example, in some settings, such as when setting the face recognition to open the lock, the device displays reverse Hebrew. This is probably a problem with displaying right-to-left languages, but Shiomi devices have been converted for many years, so this should not be the case. Another problem that is more related to the system itself than to conversion, it tends to be very aggressive with apps that are supposed to run in the background. For example with Wise, my passwords app or that of daily chores. The power saving mechanism tends to prevent them from working and should be excluded, and even then it does not always work. On the other hand, MIUI 12 also has quite a few advantages. For example, Shiomi takes care of updating it very quickly. Actually faster than Samsung or LG for example. It is not easy to find a cheap device equipped with Android 11 straight from the box. In addition the security updates come regularly, in the week we had one we got one and it shows that the manufacturer really takes care of keeping the backs of its devices.
Reverse Hebrew in 2021 on a device from a leading manufacturer?
Photo: Rafael Kahan
To conclude the software chapter, MIUI includes all sorts of features that are usually only found on more expensive devices. For example, there is a feature that allows you to turn an application into a floating window, quite useful if you need to work on two applications at the same time. There are also several options for navigating the interface, such as the ability to reduce the screen size to 3.5, 4 or 4.5 inches to improve accessibility with one-handed use. There is also full integration with other Shiomi devices, such as vacuum cleaners, TVs or smartwatches. While it does not reach the level of Apple or Samsung, but certainly not far off. In terms of ease of use, the system works smoothly, the transitions between the various windows within the system are agile and the feeling is very flowing. But it is still a relatively weak device so the loading times of the apps are a bit longer and sometimes it will linger while you switch from one app to another, as well as installation of apps is also relatively lengthy than usual. However, for someone who makes light to moderate use of a smartphone, it should not interfere and he will probably notice these things.
Camera: Not the sharpest pencil in the pencil case
Photography has never been Shiomi's strong point. Nor in its flagship devices. In recent years, however, real improvement has been seen in this area. It's just a shame it's not reflected in the Note 10. Indeed yes, the camera here is not one of the best we've seen. Although it includes all sorts of features and capabilities reserved for the competitors of the most expensive, but at the level of photography proper, it is less good. The 48-megapixel main sensor does a reasonable job in daylight but suffers from grainy images once the ambient lighting is not strong enough. This means that even indoor photography can yield not-quite-useful images. On the other hand the colors are not bad and their dynamic range is better than I expected. Which is because I recommend tapping the screen in a well-lit area before shooting to help the sensor correctly calculate the exposure. The digital zoom is usable in daylight but not much beyond that, it is capable of magnification up to 10 times – but it is highly not recommended even if it manages to maintain some details.
4 sensors, but only one of them really does the job
Photo: Rafael Kahan
The accompanying sensors, wide-angle 8-megapixel resolution, 2-megapixel macro and 2-megapixel depth of field calculation, too, are not really impressive to say the least. Wide angle photography clearly shows that there is a decrease in the quality of photography, which is a shame. The colors are not really impressive either and photography in less good lighting will yield even slightly faded colors. The macro sensor is not really useful and its resolution is a bit limited. The depth-of-field calculation sensor, on the other hand, does a good job, and the background blur (Bokeh) is actually surprisingly good without smears and with a good separation between the subject and its background. Note that there is no stabilization mechanism here, neither optical nor electronic, so images in motion did not really come out properly. The 13-megapixel selfie camera is also not the best in the category, although in full daylight it works well, but from the moment the lighting changes it loses direction and may issue images with faded colors. In short, this is a camera that offers only reasonable performance and is not intended for photography or Instagram enthusiasts.
Indoor lighting makes photography difficult
Photo: Rafael Kahan
Summary and Alternatives: The Cheapest Recommended Smartphone Today
Let's start with the good part of the deal, the price. The Redmi Note 10 officially costs about NIS 800. It is very cheap, and the package it offers is probably the best that can be found in this price category. But it also has competitors, most notably the 9T, 9 or Foucault M3, All at a similar price and from the same manufacturer but with last year's data. On the other hand, they are also cheaper by a few hundred shekels, which may be a consideration if the price is what determines. One Plus has the Nord N100 which offers a parallel package and with a better camera, but the processor is less powerful.
Rilmi offers the C15 or C3, but both with inferior specifications than the Note 10. Samsung has the A21 or A12, both good devices but with lower screen resolution. In general most devices in the category suffer from a limited screen, either in its resolution or display level with faded colors and an LCD panel. Two other manufacturers that offer good competitors are LG with the K51 and Nokia with the 5.3, but here too there are compromises in the form of smaller operating memory or screen resolution. The result is that at the moment, at the current point in time, the Redmi Note 10 offers the best package for NIS 800. This is not the smartphone with the best specs in the world, but if you do not need a performance monster, status icon or quality camera, you will have a hard time finding anything better than it.
The device was provided courtesy of Hamilton