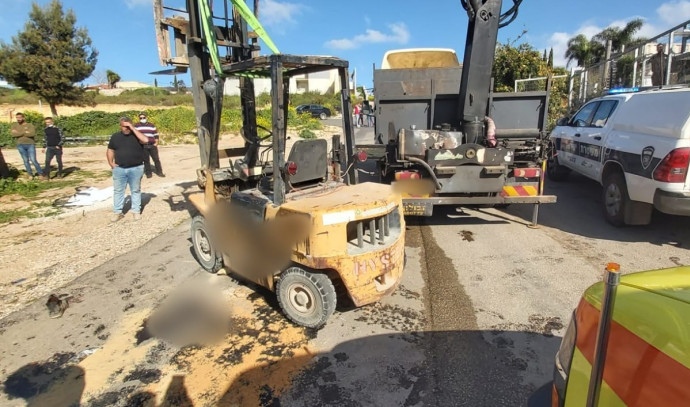 Deadly day on the roads: A 35-year-old man from the Occupied Territories was killed today (Friday) after being hit by a forklift that fell on him on the Dalit al-Carmel bypass road and a 40-year-old was killed when he got out of his car after participating in an accident on Road 784 in which three other children were injured. In addition, 35 people were injured to varying degrees during dozens of road accidents that occurred today all over the country.
MDA paramedic Matan Mann described the incident on Road 784: "This is a serious car accident. Passers-by told us that the four casualties were standing next to vehicles on the side of the road and were hit by a vehicle that passed by. A 40-year-old man who suffered severe injuries to his upper body was unconscious, we performed CPR on him but his condition was critical and in the end we were forced to determine his death. "Three lightly injured people who were walking around the scene were treated on the spot and evacuated to the hospital in stable condition."
"When we arrived at the scene we saw the wounded man lying unconscious on the road with a crane lifting a forklift that was upside down next to him. He had no pulse and no breathing and suffered injuries to his upper body. We gave him medical treatment which included breathing, massages and medication but his injury was critical and ultimately determined his death. "Tal Tal Shostak, a senior paramedic at MDA, told about the forklift incident.
MDA medics and paramedics evacuated Soroka Hospital early in a moderate condition with a head injury and two slightly injured in a road accident between two vehicles that occurred near the Nabataean junction, while six were lightly injured in a road accident on Road 4 near the Pardesiya junction, including an elderly couple And three toddlers about two years, one and a half years old.
A 58-year-old man was moderately injured and suffered a head injury after being injured in a road accident that occurred on Road 444 near the northern entrance to Shoham and two women aged 70 and 50 were moderately injured with head injuries following a road accident between two vehicles at the Morasha junction on Road 4 North.
A 18-year-old man was also moderately injured today due to the overturning of his vehicle, a 27-year-old man in a car accident in a carob forest, a 44-year-old ATV rider who overturned in an open area in Bnei Shimon Regional Council, a 55-year-old motorcyclist who skidded on Road 20 (Ayalon) From a vehicle hit on the way to Kibbutz Galuyot in Tel Aviv.
Earlier this morning, an 8-year-old boy was moderately injured in a car accident at the Ofarim junction. MDA staff provided him with medical treatment and evacuated him to Sheba Hospital in Tel Hashomer with a multi-systemic injury. A short time earlier, eight people were slightly injured in an accident on Road 424 near the entrance to Kfar Ben Nun and were evacuated to Shamir-Assaf Hospital.
Corona Shadow Elections: Senior politicians face off on main stage