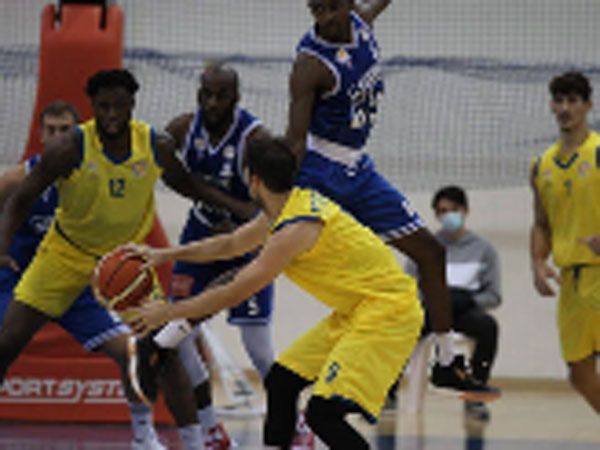 The tenth round of the national league opened tonight (Tuesday): At the center, Hapoel Afula inflicted an 80:76 premiere loss to Urbani RJ. Upper Galilee once again guarded the house with a victory over Kiryat Ata, and Elitzur Yavneh also achieved another victory when they defeated Maccabi Kiryat Motzkin. The Ordons marked a third consecutive V at the expense of Raanana Urban.
Maccabi Urban Raj – Hapoel Afula 80:76
Hapoel Afula inflicted a premiere loss to Maccabi Urban Raj, and did so thanks to two clutch threes by Goni Yizraeli and a big three at the end of Muriel Lotati. Throughout the game, no team managed to escape, until towards the end Eyal Shulman dragged the home team to a 69:74 advantage. From here, Afula scored 11 unanswered points and completed a prestigious away win.
Scored a lot in Maccabi Urban Raj: Delwan Graham (11 rebounds) 20 points, Eyal Shulman 16 points.
Scoring a lot in Afula: Jimmy Hall 22 points, Goni Yizraeli (3/5 for three) 15 points.
Hapoel Acre / Mate Asher – Elitzur Netanya 99:96 (after extra time)
A big win for Diamonds, who do so after coming out of a double-digit deficit in the final quarter and falling behind in most stages of the game. Bryce Washington and Itai Moshkovich were once again above all, and this time luck was also on the side of the Netanyahu team. On the other hand, Hapoel Acre / Mate, which got a great game from Tim Williams, lost its temper at the last minute and it cost her dearly.
Scored a lot in Acre / Mate Asher: Tim Williams 26 points, Niv Ozen 20 points. Many goals in Netanya: Bryce Washington (6 rebounds, 6 assists) 24 points, Itai Moskowitz (7 assists) 22 points.
AS Ramat Hasharon – Elitzur Ashkelon 90:77
Who will stop Ashkelon? Hanan Hirshovich's team continues to look wonderful, especially in the offensive part with 9 threes at 47 percent. Today that was enough for another victory that keeps it at the top with a perfect balance. Guy Cantor, on the other hand, is still looking for a win since the opening game.
High scorers in Ramat Hasharon: Amit Bir Katz 19 points, Gil Amitai and Arik Statch 16 points each.
Scoring often in Ashkelon: Clark Rosenberg 26 points, Idan Paz, Freddie Goldstein and Ben Altit 12 points each.
Raanana Urban – Hapoel Ramat Givatayim 79:76
Matan Harush recorded a third straight win and comes to the derby with great momentum. The guests started the game well and very quickly gained a double-digit advantage, but later the team from Pnina Hasharon woke up and managed to turn the score around. Daniel Rosenbaum in a big three and Jeremy Combs' control of the color gave the Ordons an important victory, placing them at the top of the table. On the other hand, Urbani Raanana with a third loss in a row falls into a negative balance.
Scored a lot in Raanana: Rom Cornelius (8 rebounds) 18 points, Austin Price 13 points.
Many goals scored in Givatayim Ramat Gan: Guy Platin 18 points, Jeremy Combs 17 points, Mike Holton 11 points.
Hapoel Galil Elyon – Urbani Kiryat Ata 66:78
Another victory in Kfar Blum for Barak Peleg's team, which maintains its home. Kiryat Ata suffered a bad West in the attack after the victory over Ramat Hasharon last week, and recorded a loss after two consecutive victories. On the other hand, in the Galilee they again received a nice contribution from the Israeli team and Barak Peleg is at the top of the table.
Scored a lot in the Upper Galilee: Dashon Knight 15 points, Alon Sapir and DJ Sharp 14 points each.
Many goals scored in Kiryat Ata: Marilyn Will 21 points, Julian Boyd 12 points.
Elitzur Yavne – Maccabi Kiryat Motzkin 86:93
A second consecutive victory for Elitzur Yavne, who once again received a significant contribution from her foreign duo, Trebon Hughes and Frank Hassel. Shai Saglovitch's team dominated the first half, but in the third quarter the turn came. Roy Pearl's team tightened the defense but surrendered in the final minutes.
High scorers in Yavne: Frank Hasel (17 rebounds) 26 points, Trevon Hughes, Sol Leshem and Niv Berkovich 12 points each.
Scoring a lot in Kiryat Motzkin: Dionta Simmons 24 points, Rom Geffen (6 assists) 16 points.