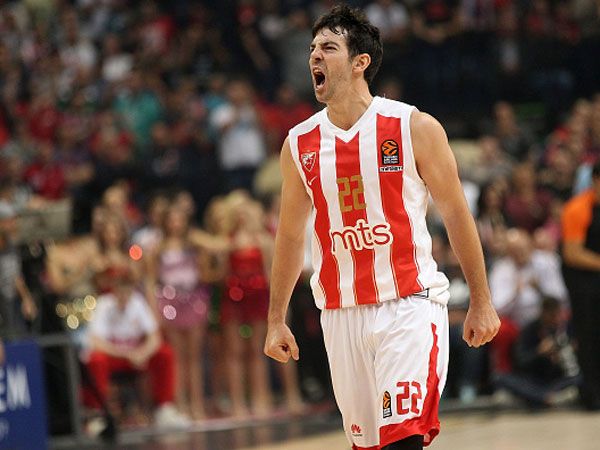 Starting Friday night, Tyler Rochesti is a Hapoel Haifa player. Let it sink for a second. Who would have believed that a player with a resume like Rochesti's – right, 35 years old – would actually land in the ranks of the newcomer who had not been in the senior league for almost 20 years? But at Hapoel Haifa, it seems, they believed and how else.
The Carmel red team made it clear from the first moment they went up in the league that they are here to build a team strong enough to stick a stake in the Premier League. The signing of a player like Amit Simhon on a long-term contract, and the attempt to sign Bar Timor on a very large contract at club standards of this magnitude – gave backing to intentions in deeds. "We're really crazy, in the good sense of the word," said one of the executives. "Everyone understands we did not come here for a trip, and Rochesti's signing is a statement to follow."
We will address the professional need in Rochesti later, but at the club level – even if the 35-year-old coordinator is well past his peak – this is a piece of achievement for the modest Hapoel from Haifa. The official statement said Rochesti was "the biggest star and top player to come to the club since being re-established in the Second Division ten years ago". In Haifa, then, this move is seen as a strategic move for the coming seasons as well: after all, if a player at Rochesti's level reaches a team like Hapoel Haifa, why will no more players with such a resume come in the future? And why should the club not aim for participation in Europe?
Rochesti. How did he land in Haifa? (Getty Images)
So Rochesti was recently released from the Red Star Belgrade after setting mediocre numbers, certainly relative to himself, of 3.9 points and 2 assists in 11 minutes. Apart from Hapoel Haifa, the American guard with Israeli citizenship has shown interest in a French team as well as Hapoel Holon, which has entered into very serious negotiations regarding it.
The desire of Israeli teams to sign Rochesti is clear: in the market supply, there are no better local guards than him, while even quality American guards from him are hard to find during this period. Holon, for that matter, even needed Rochesti on a professional level in light of the uncertainty surrounding Tyros Maggie and the fact that she plays in two frames. And Rochesti also initially gave priority to Holon: participating in Europe alongside living in the center and reaching a team that was supposed to compete for titles were higher for him in the order of priority.
The thing is that in Holon they were not closed on this deal. Rochesti demanded a particularly high contract ($ 20,000 per month) – and in terms of cost / benefit in Holon, they did not necessarily think it was a lucrative move for them, especially when the team has been running well lately. And while Holon delayed, Hapoel Haifa acted quickly.
It is not every day that a team like Hapoel Haifa has the opportunity to add a player like Rochesti, and in light of the fact that Elad Hussein was interested in an Israeli player to thicken the back line – this is an irreversible chance. Hapoel Haifa contacted the guard who became a citizen immediately upon his release from the Red Star (parallel to Holon) and he asked for a slightly higher salary than he asked from Holon – more than $ 20,000 a month. Just to clear the ear, this is the highest-earning Israeli in the league outside of Maccabi Tel Aviv.
Rochesti and Ohayon. Union Abstained (Getty Images)
Rochesti, as I recall, is a citizen. Which means that the cost to the employer for him due to the tax relief is much lower. For that matter, Amit Simhon costs Hapoel Haifa more, even though his salary is lower. But even so, this is a very expensive deal for a team that is not in the top half of the league in terms of budgets.
But in light of the unique opportunity to add a player of Rochester's caliber, a number of sponsors have decided to put their hand in their pocket and invest more money to help fund the deal. "This signing is further proof that we are building something long-term here," said a professional in Haifa. 'Once sponsors understand that, they want to keep up with us and want to invest. They understand that we are here to be a significant force in basketball in Israel. "
Rochesti himself chose to take Hapoel Haifa's offer and not wait for better offers (if there were any) because he wanted to return to Israel, perhaps for the last years of his career, and also because he got the impression that the team wanted him very much and saw him as a milestone in the club's growth process. .
Together with Rochesti, Hapoel Haifa at least puts the promotion to the playoffs as the realistic goal for this season, and perhaps participation in Europe as early as next season. Until a few months ago, who thought that Hapoel Haifa would set itself such goals? But to be honest, who really thought that Tyler Rochesti – from all the teams in Europe – would actually play for Hapoel Haifa?