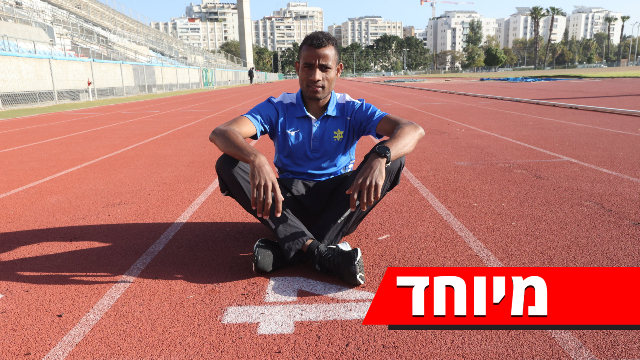 An athlete who has never run a marathon arrives, has no pretensions to Tokyo yet and his goal is mainly to use the new distance to gain specific advantages in his leading professions: 5,000 and 10,000 meters. But in the Agmon Hula race early last week a completely different picture was revealed. With the help of energies and a sea of ​​talent, the guy manages to set a fantastic result for the beginner, below the 2:08 hour limit, or more precisely 2: 07.54 hours. Thus Godadou Belchao, anonymous for many until this week, found himself at the end next to the scoreboard showing that he cut 3 and a half minutes from the criterion for the Tokyo Olympics.
First of all, completion for understanding the result. It turned out that Belchau's result is the second in European history for a debut marathon. Even the legendary Mo Farah has not dropped from 2:08 hours in his debut marathon. Only Driss El Himmer ran a better time – 2: 07.02 hours in 2001.
"I expected good results, but not so much. In fact, if I did not have muscle cramps, 800 m at the end, I would have achieved an even better result," says the 24-year-old Belchao, who lives in Yehud and competes for Maccabi Tel Aviv.
But this is where Belchau's exciting human story begins. A quick look at the race in the patient reveals that if he had run 10 seconds faster, very little in the proportions of a race lasting over two hours, he would have reached directly to Tokyo. And at whose expense? Aymero Almaya with a result of 2: 07.45 hours, who is the mentor and closest friend of Belchao.
"In the end, it's good it did not happen. I will have many more opportunities, maybe in the other distances. When we were in a training camp in Ethiopia before the competition he helped me as if he were my second coach. He improved me a lot. He deserves the many years he worked for this Olympics. "Aimro will succeed in Tokyo. I will feel happy as if I succeeded," says Belchao.
"If Godadou had noticed the clock he could have won a ticket to Tokyo," Almiya says. "Believe me, I was very happy because I know what a long and difficult road he has made. He deserves it. Our original plan was for us to finish in first and second places."
Undoubtedly, the marathon is the contemporary hit of Israeli athletics. No less than seven Israelis have already set the criteria for Tokyo: Marrow Teferi with 2:07:20 hours, Germa Amra 2:07:28, and Alma 2: 07.45 hours, represented us in Tokyo, as only three runners from each country can participate in a marathon at the Olympics.
Belchau's coach, Gazchau Yosef, the Israeli champion in the 1,500, 3,000 and 5,000 meters, who started training only this season, is working with him on other goals in general. "He started training seriously six years ago, turning 24 too young for the marathon. So the thought is to concentrate on at least 5,000 and 10,000 in the next two years before he specializes in the marathon, it is most realistic. His results have improved significantly this season, so less than what happened in the sick marathon." , Joseph says.
The coach even provided an interesting statement: "I want to bring Godadau to a position that will break my national record in the 5,000m. The same record stands at 13:31:45 minutes.
Godadou is still not giving up on Tokyo: "My ambition is to set the Olympic criteria in the 5,000 and 10,000 meters, not just to break an Israeli record. I do not know if it will happen this year, but I aim the highest. It is true that the criteria seem inconsistent. It is possible 13: 13.00 minutes in 5000 and 27:28 minutes in 10,000, but it is clear that only a few will meet them according to the criteria of three runners for the country at the Olympics. "
Something about proportions. Bnei Naveh, who covers the various competitions on the Athletics Association website and is considered one of the greatest scholars, says: "Given that his peak in the half marathon is 1: 03.07 hours, one would think that a marathon would run around 2:11:30 hours, the Olympic criterion. What he achieved this time It is inconceivable in a marathon. "
"His result in the sick reed," Naveh continues, "is ranked 35th in Europe at all times. And if that's not enough, he's ranked 11 this year, which is very strong. All 11 who are ahead of us are over 28, he's only 24 years old. "The opening of the race, which was weak, also prevented him from achieving an even better result."
Belchau: "The difference between the half-distance planning and the execution was 26 seconds slow. What surprised me more was that I was quite close to Marrow Tepperi, who to me is considered a world-class marathon runner. Suddenly I find myself close to him."
The marathon has become the highlight of Israeli athletics, mainly thanks to the coaches. There is the team led by Dan Salpter, whose main star is his wife Luna Chamtai who has the sixth result in history in the women's marathon, 2: 17.45 hours. There will also be the team of Gazacho, one of Zohar Zimro, and another in the alley club under the guidance of the esteemed Yuval Carmi, where Belchau began his Tel Aviv career. Belchau insists that we dedicate a few sentences to Shelly Elish, "who stands behind the group and organizes everything with love, on a full volunteer basis."
Godadou immigrated to Israel in 2010 without any background in athletics. His origin is Gondar, from where a large part of Ethiopian Jews come. In Gondar they were engaged in agriculture. "We had cows and other occupations," Godadou says. "We arrived in Safed, Father Zamana and Mother Abusana." At first they had a hard time because of the new environment that spoke a different language, Hebrew. Dad changed professions and worked on renovations. Mother stayed at home, guarding and raising the children.
They later moved to the Golan Heights, and Godado began studying at Hispin High School. The one who brought him to athletics was Rabbi Uri Farda, his high school educator who noticed the talent of some of his students and enlisted coach Uri Selai to teach them the secrets of athletics. He was then in the 11th grade. Later, Seli persuaded him to focus on athletics professionally. "There were very serious guys there, and Godadau was above them all. He successfully participated in the school championship. I realized that he needed to move forward and I sent him to Yuval Carmi at the Alley Club, "says Seli.
His first appearance in an international competition was at the World Schools Championships held in the country. Later, he made his debut abroad in a competition in Cyprus with the participation of the teams of Ukraine, Romania, Israel and the host country. Belchao, finished second in the 1,500m, a piece of achievement considering being a novice in athletics.
After that, he enlisted in the IDF and served in the Seder Yeshiva. When he realized that the competitions were being held on Saturday, he left the yeshiva and concentrated on athletics. He joined the leading club of Maccabi Tel Aviv and began training with Dan Salpeter.
At the same time, Godadou makes a living working on the ordering site of "Shilab" baby products. The owners of the company, Carmit and Ronen Elad, fans of athletics, hired not only him but also his club members, David Taicho and Weimer Gethon. "They also help us fund training camps, treatments and supplements. Their whole family also helps needy people and vulnerable populations," says Belchau.
Since his surprising achievement in the marathon, Belchao has been inundated with endless happiness. He is convinced, like the professionals, that this was just the promo for his next shows.