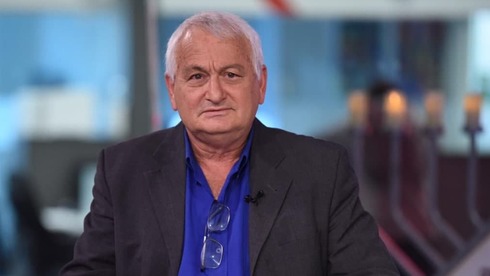 After the Minister of Settlement, Tzachi Hanegbi of the Likud, told Ynet this morning (Thursday) that "
Only the miracle of Hanukkah will prevent elections
", Minister of Agriculture
Alon Schuster
A white brush was interviewed on the broadcast after him and said: "I do not see a miracle, I suggest that we become rational people. There is a ridiculous attempt here by my friend Tzachi Hanegbi to create symmetry – and there is no such thing here."
Watch the full interview.
Schuster attacked the prime minister
Benjamin Netanyahu
: "There is a prime minister here who took an entire country captive for about two years, this is the fourth election campaign he is dragging us to for personal and self-interested reasons to prevent his trial. He understands that with us, with Justice Minister Avi Nissenkorn, he will have no chance of achieving anything such as a French law wording or an overruling clause and he says 'there will be a miracle'. Maybe a miracle of Purim. "
– Netanyahu prefers to gamble?
"Sure. Right now he's a desperate gambler, he knows he has no chance in this reality of a parity government with us to change the rules of the game while playing. And that instead of doing what he should have done – going home a year or two ago, probably after the trial begins. He clings to the horns of the altar and shakes it together with the temple in order to burn down the club. "
– There is no chance of reaching an understanding with the Likud and preventing a fourth election?
"There is an agreement and it is clear. The expectation is that the prime minister will miraculously announce a revelation and a statement such as: 'Yes, what I signed is what it should be – a functioning government, an economic plan in the face of a tragedy of hundreds of thousands in Israel, in the face of debt 20 years from now.' The expectation from him is to do the obvious, and of course to ensure that the same mechanism of rotation exists. "
– But this is a blue-and-white political suicide, where are you going? For your own loss?
"What interests us is not the polls but what is true of the State of Israel. What motivates us is not the manipulative account of my friend Hanegbi. In the winter of 2021 we make a brave decision in the style we received in the spring of 2020. Even then we were told 'Netanyahu lied, be careful, he will not keep his word '.
"I saw myself as a father whose son is in a burning apartment and the neighbors around tell him 'be careful it is dangerous, do not do it'. We went inside this apartment to save the State of Israel in the face of crises," said Schuster, "We did what an Israeli patriot did. "We must do, and even now, when Netanyahu imprisons Israel between two bad alternatives – a dysfunctional, bad and abusive government, and elections. So we say 'elections'. The time is running out for Netanyahu to do what he wants in the State of Israel. He ended his career, making an impossible gamble." .
"The polls are good for their time, for that moment. I hope we will see an increase and strengthening during the election campaign."
– how? You are reuniting with Yair Lapid, is this the next move?
"We are running, blue and white, led by Bnei Gantz. I estimate that there will be a reunification of forces after the election.
– There is a split on the right, maybe it's time for you in the second bloc to recover and cooperate.
"I certainly do not rule out the entry of more people into blue and white. Stable blue and white, is a key bloc. Polls at the moment are less smiling at us, but belief in our way leads us."
– Do you think anyone will give you a lead?
"I do not know who will give it to us, we give it to ourselves. Ganz will lead us, there is complete unity. We are not interested in all the stories, what is right is to make good decisions for the people of Israel."
– What will you say to the public? Why vote for Gantz?
"We will tell those people who are not an extreme right that seeks unilateral annexation that we prevented, to those who assume that the ultra-Orthodox are the source of all evil, we will tell them – no. Arabs are equal citizens, certainly ultra-Orthodox. We are at the center, crossing arms right and left, ourselves We unite a few lines of right and left, and we call on Israeli patriots to join us in a center party that will be in government and look only at the good of Israel.
"If we have to go to the polls even in unclear electoral situations – we will do it, not because we need elections but because the alternative is worse," Schuster continued, "as we thought In the spring, going to the polls against the Corona is a disaster for Israel. "
Schuster continued to attack Netanyahu: "A rational state looks and says – 'What do I have? I have a prime minister who not only clings to power, but also makes bad and offensive moves in the economic aspect.' He is looking for a way to shake and collapse the forearms of the trial, not given to him. We are going to the polls on behalf of the citizens of Israel, right and left. The rules of the game are justice for all, and a country is sure of the rightness of the way. "
– Is it possible that your voters, those who also supported the unity government, abandoned you and weakened you in the face of Netanyahu?
"Our decision to enter the government was a decision I am so proud of, based on the data at the time. Not to leave Netanyahu alone at the helm of power. There were some of our friends, Yesh Atid-Telem, who decided to stay on the sidelines, give advice. They will save their lives. "We put our hands deep in the mud, we stopped the unilateral annexation, we rationalized the management of the corona crisis, we tried to get politics out as much as possible. We kept the court, we did wonderful things each in his own office. I in my office brought light to the farmers."
– Maybe the Israelis do not understand this? Abandoned you, betrayed you?
"In the election campaign, we will present our achievements, the failures we have stopped, and all the active achievements we have brought. At the same time, I must say – Israel first and foremost."
On the dilapidated position of his party in the polls, Schuster said that "they are good for their time, for the moment. I hope we will see an increase and strengthening during the election campaign. However, I say again, a party of a group of people who believe in its way as we believe, should not look at 'what "Out of this," but to ask whether the State of Israel is benefiting from the historic decision we made in the spring, and the right decision we are making at the moment. "
– Lieberman yesterday called for unification, for cooperation. Can you consider that? Is this an option?
"There are all kinds of thoughts in the election campaign. We know one thing – first of all we will find the remaining days to see maybe there will really be a Hanukkah miracle, a Christmas miracle, if we are able to stop the terrible folly from Netanyahu's beit midrash. In the other option, will we degenerate into them? "Elections, which are the bad alternative but the least bad than a dysfunctional government. What will happen during the election campaign – I do not know. We have a leader, Benny Ganz, he will consider whether right or left, whatever decision he makes I am with him."
Against the background of various reports that Foreign Minister Gabi Ashkenazi will consider continuing to run in the election, Schuster said that the relationship between him and Ganz is "excellent, unequivocal." He promised that "there is no bad blood flowing between the two – they are good friends, there is mutual appreciation between them, a clear subordination, with a relative advantage of each of these two leaders."
– And if it turns out in the polls that Ashkenazi brings more seats?
"Then the polls will lead to a few more discussions in such and such studios. Ganz is the founder and leader of Blue and White, and will remain so. Any decision by Ganz, I am with him."