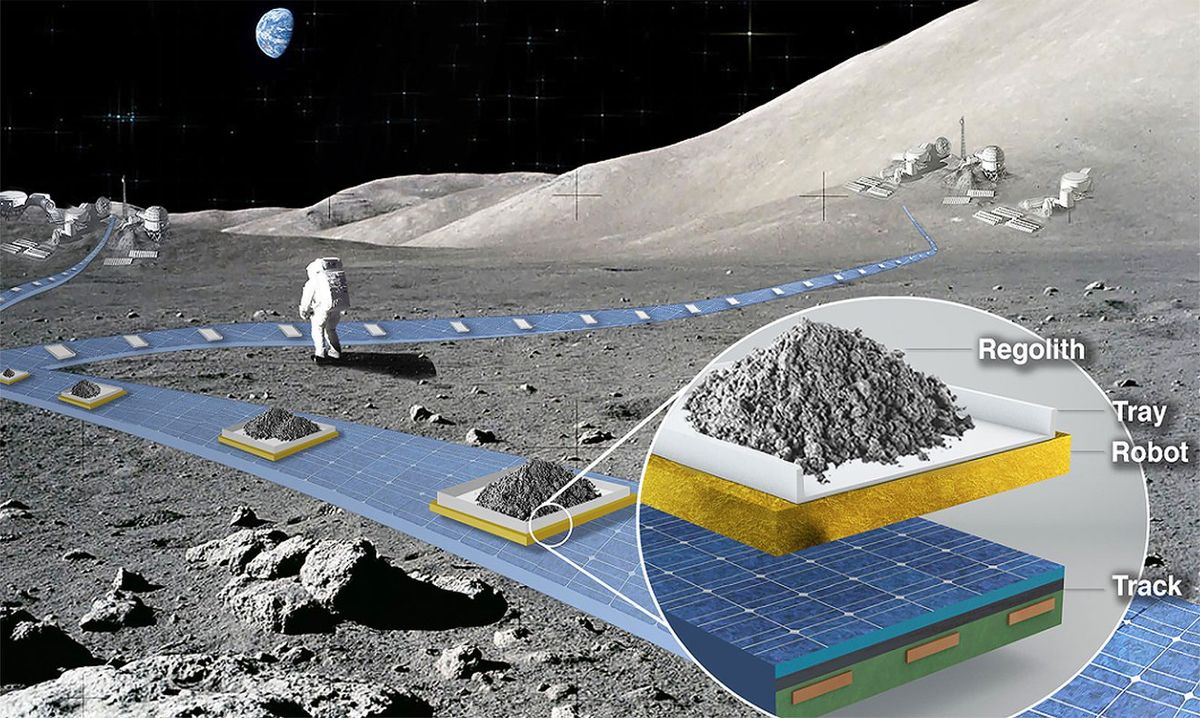 NASA's latest fleet of research ideas includes projects that could one day return samples from Saturn's moon Titan, allow astronauts to experience artificial gravity in space, or send incredible amounts of planetary data back to Earth.
The group announced the latest recipients underneath NASA's innovative advanced concepts a program, which explores ideas at an early stage for the study of the universe. While many of these projects may be decades since their launch, NASA and related organizations may use some of the ideas in future programs.
This year's round brings up to $ 125,000 per person for Level I recipients for an initial study. Those who meet their requirements can apply for a Stage II grant after nine months. The program typically provides up to $ 500,000 per head for Phase II recipients and $ 2 million each for Phase III.
Related: Venus Missions? Intersex probes? Here are 18 wild space tech ideas that NASA is looking at
"There are a huge number of new participants in the program this year," said Jason Derleth, NIAC chief program officer at statement from NASA Jet Devolution Laboratory (JPL). "All but two researchers selected for Level I awards will receive NIAC grants for the first time, demonstrating that NASA's early opportunities continue to engage with new creative thinkers from all over the country. "
NIAC was founded in 2011 following a preliminary program called the NASA Institute for Advanced Concepts.
Below is a full list of 2021 Level I recipients; the brief descriptions are taken directly from each project individual test sheets on the NIAC website.
Adaptive Regolith Modification System (RAM) to Support Exterior Transverse Plants (and Operations): The Sarbajit Banerjee project of Texas A&M Engineering Station will study selective consolidation and bonding of lunar surface materials.
Investigating Uranus via SCATTER: Stable ChipSat / CubeSat activation via transmission electromagnetic radiation: Sigrid Close of the Stanford University project will study the ability of a parent spacecraft to transmit power and manipulate a small test spacecraft at a distance through a laser transmitter.
Ablative arc mining for the use of in-Situ resources: Amelia Greig of the University of Texas, El Paso project will involve the construction and collection of water in parallel with as many other local products as possible. Binding of surface material using electric arcs creates free ionized particles that can be mass-ordered to material groups and transported to a relevant collector by electromagnetic fields.
One kilometer-scale space structures from a single publication: Carnegie Mellon University's Zachary Manchester project addresses the challenge of eliminating artificial gravity near 1g [Earth's gravity] for astronauts, a kilometer-level structure is required. It will leverage recent advances in mechanical metamaterials to design usable lightweight structures with unprecedented expansion ratios.
PEDALS: Passively Extending Dipole Array for Moon Pronation: Peter McGarey from the JPL project will introduce a series of unique diodes that, through unique combinations and the integration of short dipoles into larger ones, extend the lunar subscription efficiency solution. by allowing variable frequencies and depths.
Autonomous Robotic Demonstration for Deep Drilling (ARD3): Quinn Morley of the Planet Enterprises project will test an autonomous drilling system that would use a Rover type of perseverance as a drill rig. The drilling strategy does not rely on cables; instead, self-contained robots drive up and down the borehole independently. These robots are nicknamed "borebots."
Extrasolar Object Interceptor and Sample Return enabled by Compact, Ultra Power Dense Radioisotope Batteries: Christopher Morrison from UltraSafe Nuclear Corp. – The Space project will explore the design of a radioisotope-electric-propulsion spacecraft powered by the new novel Chargeable Atomic Battery. A spacecraft powered by this technology will be able to capture an extra object, collect a sample, and return to Earth within a 10-year period.
Planar Atomic Energy for Light Study (APPLE): Joseph Nemanick of The Aerospace Corp. explores enabling architecture for deep solar system missions on fast-moving space platforms. The vehicle incorporates a long-range power system, a capable, rechargeable peak, and a modular power system with solar-powered motion.
Return of Titan sample using In-Situ stimulators: Steven Oleson ofNASA's Glenn Research Center project will explore a proposed Titan sample return mission using volatile mobile devices available on its surface.
ReachBot: A small robot for large mobile handling tasks in Martian cave environments: Marco Pavone from the Stanford University project will test a towing and anchorage robot, which recycles longboats for mobile handling, used to study and sample difficult areas on planetary bodies, with a key focus on Mars research.
FarView – Lunar Outdoor Radio Observatory Far Manufactured: The Ronald Polidan project from Lunar Resources, Inc. is a system-level end-to-end study of how to build a low-frequency radio observatory, "FarView," on the lunar side using lunar regolith materials.
FLOAT – Flexible Levitation on Path: Ethan Schaler of the JPL project will study the first lunar rail system, which will provide reliable, automated and efficient pay transport on the moon. It employs powerless magnetic robots that build over a three-stage flexible film path.
SWIM – Feeling Independent Micro-Swimming: JPL's Ethan Schaler project will greatly expand the capabilities of subscribed Europa marine-class access missions and greatly increase the likelihood of them finding evidence of residential, biomarkers or life potential.
Making soil for space habitats by spawning asteroids with fungi: Jane Shevtsov of Trans Astronautica Corp. project will create. soil from high carbon asteroid material, using fungi to physically break down the substance and reduce toxic substances chemically.
Bender light: Charles Taylor of the NASA Langley Research Center project uses Cassegrain telescope optics as the primary method of capturing, focusing and targeting sunlight. The second key innovation is to use a Fresnel lens to capture this light for transmission to a multi-user at distances of kilometers (0.6 miles) or more without significant loss.
Express Pony Solar System: Joshua Vander Hook of the JPL project will study a global, multi-celestial, high-resolution planetary meter supported by regular visits from a cycler satellite network to obtain petabits of data for its transfer to Earth.
Follow Elizabeth Howell on Twitter @howellspace. Follow us on Twitter @Spacedotcom and on Facebook.