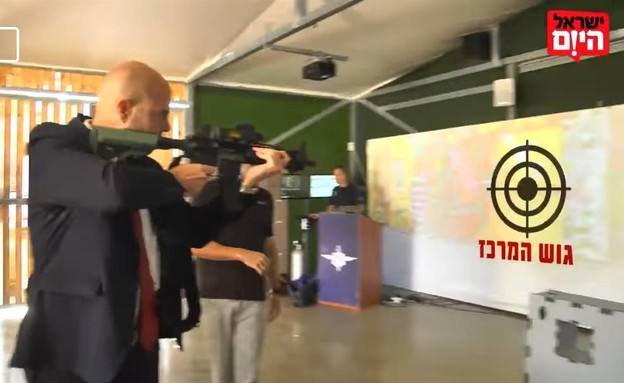 The minister's video from the range, the rage – and the clarification: The newspaper "Israel Hayom" interviewed the Minister of Internal Security Amir Ohana "Likud" and during the interview Ohana shot at the range. In the video, which Ohana also uploaded to his Facebook page, the caption "Central Bloc" appears on the target. The publication caused a stir and today (Friday), a day after the publication, Ohana published a clarification – blaming the newspaper. In Israel today, they apologized – and said that the passage in question was removed from the video.
For more updates and to send your stories – visit the news Facebook page
Surfers were furious at the picture in which Ohana was seen "shooting in the central bloc" and claimed that it was fermenting, a few days before the election. "We are doing a terrible thing in editing here," Ohana wrote. "In reality: I shoot at figures of armed terrorists, and ask if to shoot at the center (center of mass). You can see in the video here that I also hit – the terrorist was shot and falls to the ground. Edited: The editor added, unknowingly and unintentionally, instead of the armed terrorist. Be on screen and titled "'Central Bloc'".
Ohana clarified: "This goal did not appear in reality but was only added in the editing. In other words, it is a lie that does not reflect reality – your eyes see. Because in the spirit of the election days Enemies, we are one people. "
Ohana deleted the original post and re-uploaded the video – without the critically acclaimed image. "For the first time in my life, or at least as far as I can remember, I am deleting here from the page a video that came up yesterday and re-uploading it after removing the unnecessary add-on described here, added in editing, I do not know by whom and why, and I noticed it only in retrospect."
The Israel Today website published a clarification today that read: "In a video uploaded yesterday to the digital platforms, Minister Amir Ohana was hosted in a humorous interview as part of the series of interviews 'Everyday MK' in Mini Israel. During the visit, the Minister experimented with firing at virtual targets. As part of the editing of the video, humorous graphics with bad taste were added, which allegedly showed that the minister was aiming at the 'Central Bloc'. We make it clear that there was no intention to give an interpretation that is implied as violence, and apologize if anyone is harmed by this. This section has been removed from the video. "