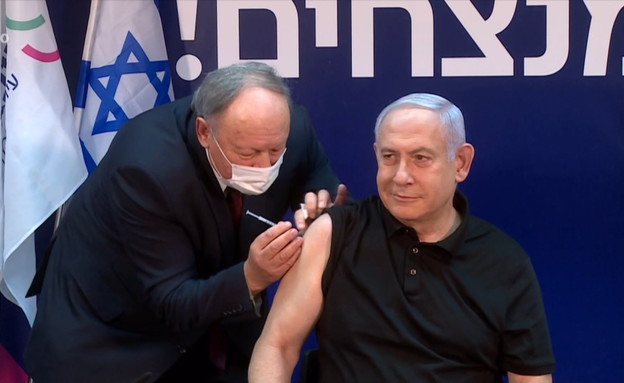 "A small shot per person – a big leap for the health of us all": Last night (Saturday), Prime Minister Benjamin Netanyahu and Health Minister Yuli Edelstein received the Pfizer vaccine against the corona virus at Sheba Hospital in Tel Hashomer. In doing so, they became the first in Israel to receive the vaccine. Immediately afterwards, the medical staff at the hospital will be vaccinated and from tomorrow the rest of the medical staff around the country will also start getting vaccinated. Netanyahu said at the hospital: "This is the beginning of the exit from the epidemic. I asked to be vaccinated first to set a personal example."
For more updates and to send your stories – visit the news Facebook page
"This is a very big day for the State of Israel," Netanyahu said. "We brought millions of vaccines to Little Israel, and millions more will come later. I asked to be vaccinated first together with Health Minister Yuli Edelstein to set a personal example."
The Prime Minister added: "I strongly believe in this experiment, and believe that we should get started. Along the way I thought about the children who care for parents and grandchildren who want to hug grandparents. I also thought about restaurant owners, and that we can return to gyms, football games – and return to normal "Objects in them. I ask everyone to join us and get vaccinated." Immediately after receiving the vaccine, Netanyahu said: "A small injection per person – a big leap for the health of us all."
"We are coming out of the darkness of the corona into a great light," the prime minister noted. "Especially now you have to be more careful about the rules of washing hands, wearing a mask and preventing crowds. If we all get vaccinated as soon as possible now – we can return life to our normalcy, and especially the economy." Netanyahu even said: "If we adhere to the rules and get vaccinated – we can certainly be the first country to emerge from this crisis."
Health Minister Edelstein added: "The vaccination campaign is underway, and shows the resilience of Israeli society. The vaccine is safe – let's get vaccinated." After being vaccinated, Edelstein said: "I feel great; I have the great privilege of being the Minister of Health in the Israeli government and launching the vaccination campaign that will bring hope to the country."
A few hours after we were vaccinated, Prime Minister Netanyahu and Health Minister Edelstein updated on their Facebook accounts that they were feeling well. Edelstein posted a selfie with the prime minister, and the two called on the public to get vaccinated as well. "Feels great! Go get vaccinated and get out of the corona, "the prime minister wrote.
We are after the vaccine and feeling good. Now it's your turn to get vaccinated. Just health and a good week.

Posted by Yuli Edelstein on Jul 19, 2020
From next Monday, the HMOs will begin the "give a shoulder" vaccination campaign, with the first phase receiving people aged 60 and over and the populations at risk. It is estimated that by next month, the vaccines will be open to all citizens, assuming that the deliveries of Pfizer and Moderna will continue to arrive as planned.
Israel has signed agreements to receive 24 million doses of vaccine against the virus, which will be enough for 12 million citizens. In doing so, there is the potential for Israel to become the first country to be vaccinated against the corona virus.
"In the first days, only medical staff will be vaccinated and then, during the week, at-risk populations and the elderly – and then we will open it to the entire population," Minister Edelstein said last night in an interview with Ulpan Shishi. "Our plan with the HMOs is 60,000 vaccines a day and they claim that this number can also be exceeded. We hope to reach millions of vaccinators, but it depends on the priority of the population.