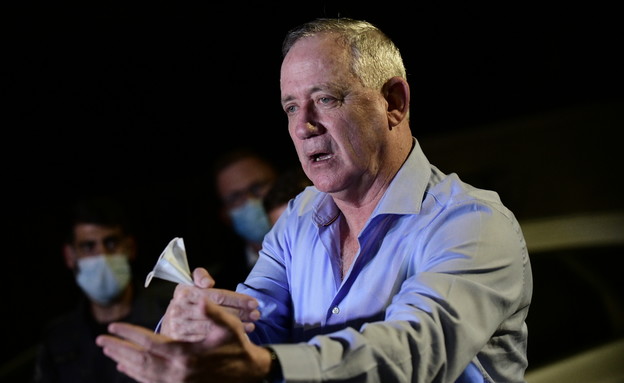 The Minister of Defense was interviewed by the newspaper Al-Sharq Al-Awsat and called on Abu Mazen to return to the negotiating table: "What is the right of the Palestinians to feel independent? I want them to be part" • Ganz emphasized that Israel would not return to the 1967 borders There may be an exchange of territories with the Palestinians
N12










| Posted 17/12/20 07:59

Defense Minister and Deputy Prime Minister Bnei Gantz was interviewed this morning (Thursday) by the Saudi newspaper Al-Sharq Al-Awsat and said that he does not see complete peace without a solution to the Israeli-Palestinian conflict. "The right of the Palestinians to feel independent is what it is and their right to have a capital," Ganz said. "Jerusalem must remain united but there must be room for a Palestinian capital. Abu Mazen must join the peace process and not be left behind. I want the Palestinians to be part of the peace process. The Palestinian deserves a beer."
For more updates and to send your stories – visit the news Facebook page
Ganz stressed that Israel would not return to the 1967 borders, but there could be an exchange of territories with the Palestinians. According to him, Israel should sit at strategic points in the Jordan Valley – but it is not obligatory to annex the entire area.
"We opposed the annexation plan from the beginning, even before the UAE demand was raised and before Netanyahu agreed," Ganz said. "We have opposed the training of the outposts. We want the Palestinians to have a suitable entity that will allow them to live a comfortable life without obstacles. What we consistently demand is security. We can talk about exchanging territories, although I do not see how and where. We say 1967 borders will not return, but always "Compromises can be found. The Palestinians must join the peace circle and not stay in the back seats."
Referring to contacts for the signing of peace agreements with other Arab countries, Ganz said: "I visited them all as part of my military missions. Now I want to visit there openly and in a friendly manner."
In an interview, Ganz also referred to the political crisis and said: "It seems that we are going to early elections because Netanyahu does not abide by agreements. We do not want elections." "If Netanyahu reads the political map – he will understand that elections are a fatal blow to him. He will not return from them as prime minister. A large percentage of people have not yet decided how to vote and there are changes in the party map that could lead to further changes," he said.