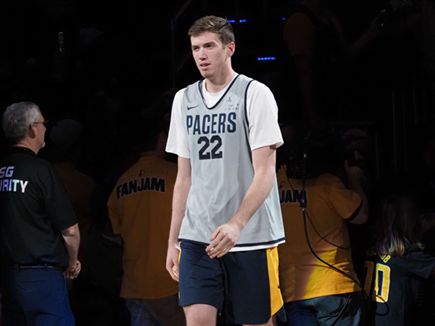 After he was released from Oklahoma City, Maccabi Tel Aviv examined the option of adding TJ Leaf, who will join the Israeli team in its next games. The 23-year-old forward has announced that he currently prefers to exhaust his options in the NBA.
Leaf and Maccabi Tel Aviv agreed to stay in touch, but not only the Yellows approached him. Hapoel Jerusalem also checked the player's condition, with Basconia being another team that expressed interest in him.
Leaf, who was selected 18th in the 2017 draft by the Indiana Pacers, has played in the last three seasons in the best league in the world, and a month ago moved in a trade to Oklahoma City along with a second-round pick, in return, Indiana accepted Jaylen to Cue.
In his three seasons at Indiana, Leaf averaged 8.7 minutes per game, averaging 3.3 points per game and 2 rebounds. Recently, as stated, he stated that he intends to play for the Israeli team and he is expected to be at the service of Oded Katash for the upcoming European Championships.
Even before his NBA career, Leaf starred at UCLA College alongside Lonzo Ball, putting up an impressive 16.3 points per game on 62% from the field and 46% for threes, alongside 8.2 rebounds. This ability aroused understandable enthusiasm in Indiana, who selected him in the draft one place ahead of John Collins (also a power forward) who is now considered one of the most promising players in the basketball world.