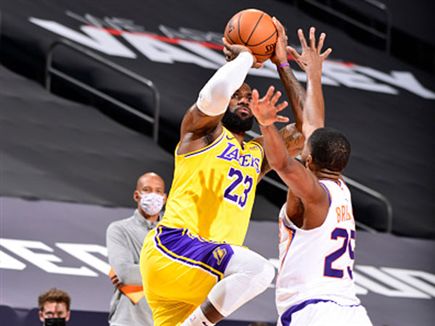 About two months after leading the Los Angeles Lakers to the championship, and a week before the start of the NBA season, LeBron James and Anthony Davis returned early in the morning (Wednesday through Thursday) to the floor in the preseason game against Phoenix. The champion won 107: 112 away and maintained a perfect pre-season balance.
It was the champion's third game ahead of the new season, and the first as mentioned in which the two big stars took part. Predictably, Frank Vogel did not overload the two too much: James played 15 minutes, in which he provided 11 points, 2 assists, 2 rebounds and one steal; Davis got 18 minutes on the floor and returned with 10 points, 4 rebounds, one steal and one block.
While the two stars had little playing time, Kyle Kozma was the top performer with 23 points. Sheleon Horton-Tucker added 18. By the way, the Lakers won the final quarter, against the Suns substitutes, 24:43, which helped them rise to a 0: 3 balance in preparation. Phoenix was led by Diandra Eyton with 21 points in 25 minutes. Devin Booker settled for 16 and 7 assists.
The rest of the night results: New York – Cleveland 93: 100, Oklahoma City – Chicago 124: 103, Denver – Portland 95: 126.
LeBron and AD not taking any chances this year pic.twitter.com/FhnZEcznLd

– Hoop Central (@TheHoopCentral) December 17, 2020