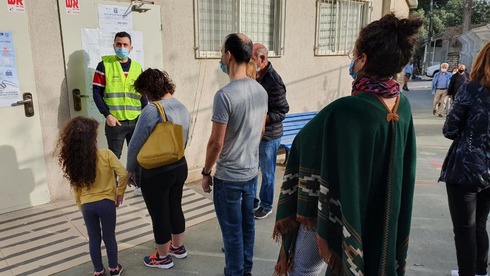 Israel's fourth parliamentary election in two years began Tuesday morning and while most polling stations were expected to open at 7am, many voters across the country are reporting unplanned delays and anarchy once time at a polling booth.
In small towns, polling stations open at 8am and close at 8pm, and prospective polling stations for COVID patients operate between 8am and 7pm.
In some cities of the country, however, including Jerusalem, Haifa and Rosh HaAyin, unplanned delays have occurred in large queues, with dozens of voters waiting side by side. outside polling stations.
Officials at the stations where delays have been reported said they are due to a lack of manpower.
"This is something unethical," said Hagai Rabinovich, a former citizen who came to vote at the same polling station in Jerusalem where President Reuven Rivlin is to vote. "People here aged 84 and over, I've been waiting here for half an hour. No one has explained what is going on. "
Once that particular polling station opened, however, it was fraught with technical pitfalls, including a broken elevator. This prompted former voters, including a 90-year-old Holocaust survivor, to climb two stairwells to exercise his democratic right.
Another Jerusalem voter, who cast her ballot at a nearby polling station, said that although it had opened in time, station staff were not prepared to deal with the workload.
"There were no disinfected kittens at the entrance as promised. The station has a disinfection kit, but you need to ask for it. [The Central Election Committee] have spent our money on their awareness campaign. "
At one of the polling stations in the city of Ramat Gan – which opened half an hour longer than planned – a man pretended to be a returning officer, while the employee himself sat in a nearby corner. The man spoke rudely to the voters who arrived at the station and told one woman who had complained, "you are shouting more than my wife".
One polling station in Rosh HaAyin opened with a delay of 50 minutes.
"Everything is starting to come together, of course there are problems in the morning hours when station staff are running late," the head of the Central Electoral Committee, Orly Adas, told Ynet.
"In the southern region, as a result of the strong winds, some of our polling station tents had collapsed overnight. We are already paying attention to it. We will also deploy our mobile polling bus, to avoid further delays. "
Some 6,578,084 Israelis are eligible to vote, with 13,685 polling stations operating across the country. There are at least 751 stations dedicated to coronavirus patients and those on their own, including one set up at Ben Gurion Airport.