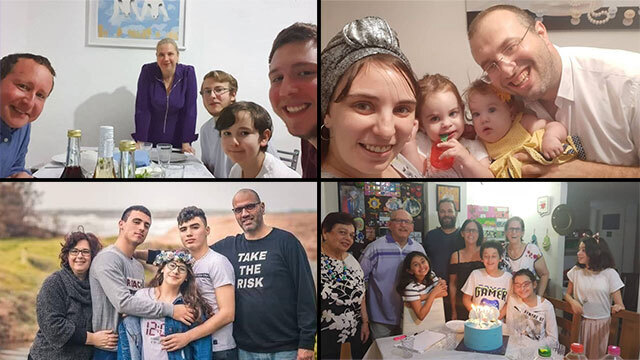 For the first time since the outbreak of the Corona and after more than a year of closures and restrictions, this Passover holiday is celebrated with the families – and many Israelis are excited to sit at one holiday table with their grandparents. Meanwhile, in the Galilee landscape, there has already been a "general rehearsal" for Seder night with the participation of more than 250
New immigrants
, Mainly members of the Menashe tribe who immigrated from India. In another operation, chefs Haim Cohen, Moshe Segev, Bnei Beja and Itzik Tapiro cooked 2,000 holiday meals distributed to Holocaust survivors and low-income families – and MDA also rallied to help so that everyone could celebrate with the family.
The Seder in the Galilee landscape was organized by the municipality and the city's rabbis. The municipality distributed immigrants' Haggadot translated into the two languages ​​they speak, Mizo and Kokit. Sarah Zuta, who immigrated from Manipur State, said that on Seder night in India the story of the Exodus from Egypt was told orally and not through the West Bank. "Some of the dishes are familiar to us, like the matzah, which we used to make ourselves," she said. "On our original Seder night the egg was not hard, and the bitterness was made of really bitter roots, not a shelter."
"The celebration would have started exactly at midnight, at a time when the plague of the firstborn had befallen the Egyptians," Abraham Twangetto said. "The members of the community were commanded to eat fast food, like the children of Israel in Egypt, and used to slaughter a chicken and shed simulas on the houses of the inhabitants as in Egypt." The festive Seder night was also attended by about 20 immigrants who came to the Galilee landscape from Russia in recent weeks, and two immigrants from France.
In the kitchens of the Crowne Plaza City Tower Hotel in Tel Aviv, chefs Haim Cohen, Moshe Segev, Bnei Beja and Itzik Tapiro worked on cooking no less than 2,000 holiday meals. Thousands of volunteers distributed them to some 2,000 Holocaust survivors across the country, as well as to the elderly and single-parent families.
The project was initiated by Ya'arit Shoshan-Sabag, in collaboration with Yad Ezer, a member from Haifa. The association's general manager, Shimon Sabag, said that "Yad Ezer bought food for the chefs to organize about 2,000 dishes. It is very important to me that Holocaust survivors, the elderly, single mothers and low-income families receive and receive a chef's meal. They deserve it too, they are not going to eat and dine their hearts out in upscale restaurants all year round. It is precisely on Passover that they deserve it, and especially after everything they went through during the difficult and long period of the Corona crisis. "
MDA officials also volunteered to help distribute food to low-income families. MDA Director General Eli Bin said that "this year, too, we made an effort not to leave a home in Israel without a holiday joy on the Seder table, and I thank the Israeli citizens who donated." This is the 17th year that thousands of MDA volunteers, youth and adults, enlist in the large-scale "Kamcha Depsha" operation.
During MDA's operation, the volunteers collected about 20,000 food packages containing about 700,000 food items donated by hundreds of thousands of people. "MDA is an organization whose life-saving activities are intertwined with the lives of Israeli residents," Bean said. "Our connection with the community is a supreme value for us. We are in constant contact with the welfare authorities in the country throughout the year and on the special holiday. It is important for us to make every effort to help. These are first-rate humanitarian missions.
Shira Schwartz (48), an ADHD management coach from Karmiel, is celebrating Seder this year with her mother, children and two American guests. "There is a very big excitement because we were terribly waiting to celebrate with my mom, and the kids are really waiting for her," she said. "We'll be eight people this time, and it's very exciting. Last year we were just the small family and the rest were buzzing. I didn't even start cooking, but it's a fun meal with special food, my grandmother's kneadlech and a Passover cake we're always waiting for."
Schwartz says that she was afraid that she would not be able to celebrate this Passover with her family. "I was sure we would have to celebrate in a limited way and be in some kind of closure," she said. "When I heard that it was possible to celebrate this year with everyone, I was very happy. We now appreciate more the celebration with the family after this difficult year."
Despite the great joy of the holiday among the family, Schwartz still fears the possibility of another outburst. "It seems to me that it is not over," she said. "We are a bit complacent with the whole corona and let ourselves get carried away and do not keep the guidelines enough. The rules are very loose and I am afraid, because I am in a kind of euphoria and I do not think we will get that far. I am very afraid that after Passover the infection will start to rise.
Aina Golan Khodir (43) from Kfar Saba is celebrating this year with her extended family. "We will have 14 people and it will be full of food," she said. "I can not describe, it is happy to celebrate with everyone together. Last year we did Seder night just me, my partner and his mother. I am very excited, I have no words to describe the feelings. It is not even the whole family. When I learned that it is possible to celebrate together "I said straight away that I have an arrangement, because I really like to entertain. The children are excited to celebrate with the whole family."
"There is a sense of freedom," she said. "We are back to being a big and extended family. I was very hurt by the closures that the grandparents could not meet the grandchildren. Now the feeling is that we are not limited with who we will meet, who we will see and with whom we will celebrate. It's fun to feel the sense of togetherness again."
Khodir is also afraid of another locksmith, and says she still feels uncertain. "There's an illusion of routine, but it's not really what we were used to," she said.
Avichai Arbiv from Raanana, will travel with his wife Sharon and their three children to a Seder celebration with his parents, where the family members will meet his sisters and children and the excitement is at its peak. "This will actually be the first time we all meet for a long meeting after a year," he said. "In the last year we have met some of us in a limited way, but now we are all sitting around the table."
Arbiv, like many others, badly remembers last year's order. "We did Seder night just the fifth of us," he said. "It was nice, but without the festivity of the holiday. I remember trying to connect with Zoom several times to talk to the rest of the family, but he kept collapsing and freezing. Now we're out of the zoom's stagnation."
It is not only the nature of the order that will return to its former state, but the preparations that will change. "Last year the cooking was pretty limited," Arbiv recalled. "This year there is the shared cooking and there are the dishes that everyone brings and is going to be a very big and very interesting table. There is no doubt that there is a different excitement. For example, last year I did not tell the jokes of the annoying uncle, and this year I will try to tell. "Grandpa on how he celebrated as a child and what the customs were, it's a great excitement."
As with Arbiv, the holiday also marks a change for Chaya Meir (31) from Holon. Meir is married and the mother of two daughters, one of whom was born just before the previous Passover Seder. "Last year we were home alone and it was not fun to celebrate alone," she said. "Passover is a terrible family holiday, and last time it was a little sad, quiet, calm and lonely even. A little before the holiday we did a family zoom, but it was stressful, and when the holiday came the four of us stayed. We thought about the parents left alone and it hurt us. Otherwise, and we succeeded. "
According to her, on the night of Seder last year, she did not think about the current Passover and what would happen, but during the year she had fears that her family would also spend the eve of the current holiday alone. Now that the whole family is vaccinated, she is still apprehensive and adhering to the guidelines. "We will not hug, we will keep our distance and we will be careful," she said. "I missed the noise of a family on holiday and something breaking a routine."