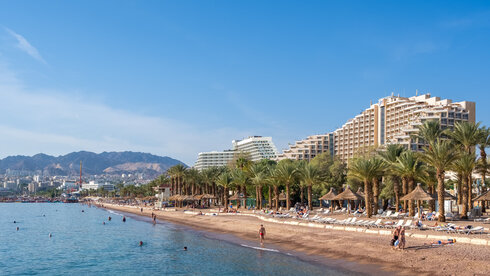 Almost all of us already know where we will spend the Passover holiday, but these days we should at all deal with the question of where we will spend the holiday in August? It seems so. An independent survey we conducted revealed that a family with two children who now book a vacation in Israel for the summer will be able to enjoy a price that is 15% -35% lower than the price paid by those who booked during the summer season itself in previous years. Also, booking so many months in advance does not include payment and is in fact an armor of the place, so there is no risk of financial loss if the corona disrupts life in Israel even deep into the summer.
How did we check? We have compared the prices of the packages now on the shelf to the average of the prices collected in the previous summer seasons, near August 2020 and August 2019. We emphasize that the prices are correct for the test time on Wednesday morning and may change from time to time, Price in one hotel or another. We will set off with the Fattal chain, which markets three-night vacation packages for a couple with two children. Bio Splash Resort in Eilat will pay NIS 11,040 for an all-inclusive vacation for the whole family between 12 and 15 August. A vacation at Magic Magic Palace on a half-board basis costs NIS 9,090 if you book it now.
We will move to the Dead Sea, for NIS 10,200 you will guarantee yourself an all-inclusive vacation at the Dead Sea Club. Leonardo Plaza Dead Sea: NIS 5,850 for a vacation based on bed and breakfast.
At Isrotel Dead Sea, you will pay NIS 4,651 for a vacation between August 1 and 4 for a couple with two children on a bed and breakfast basis. Upgrading to half board will increase the price of the package to NIS 5,784.
And what is happening in Tel Aviv? Starting at NIS 1,580 per night, you can reserve a vacation based on bed and breakfast in the Crowne Plaza.
Netanya is also on the tourist map, and for a price that starts at NIS 1,450 per night, you can guarantee yourself a vacation at the Lagoon Hotel on a bed and breakfast basis.
On the Torres wife's booking website, we found a deal at the Leonardo Plaza Hotel Netanya for two nights at the weekend for a couple with two children, on a bed and breakfast basis, at a price of NIS 2,674.
We will return to Eilat, where due to demand the difference in price between ordering now and ordering later towards the summer is the smallest. On the Blick website, you can book a vacation at the Neptune Hotel from the Dan chain from August 16 to 19 at a price of NIS 5,382 for the whole family on a half-board basis in a standard room. Upgrading to half board raises the deal to NIS 6,035.
More on the shelf: A vacation at the Neptune Hotel Eilat, from the Dan chain, at a price of NIS 5,382 for the whole family on a bed and breakfast basis, between the dates of August 19-16.
On the flying carpet we also found a variety of vacations. An all-inclusive three-night vacation at the Isrotel Sport Club Hotel on the weekend between August 12 and 15, for example, will cost you NIS 6,620 for a couple with two children.
On the website of Eshet Tours, we found a vacation package of three nights at the weekend at the Caesar Hotel Eilat for a couple and two children on a bed and breakfast basis at a price of NIS 4,399.
And some examples from the north. Holidays between August 15 and 18 at the Olive – Daria Haon Hotel cost NIS 5,478 on a bed and breakfast basis in a superior room. Between 2 and 5 August, for NIS 3,643, you can relax at Menara in a family room on a bed and breakfast basis.
The Flying Carpet Company is marketing a vacation at Lake Kinneret for NIS 7,550 for a couple with two children on a half-board basis from 15 to 19 August.
Assaf Ben Dov, VP of Marketing for African Israel Hotels, which owns the Crowne Plaza and Lagoon brand, said in an interview with Ynet that the reservation is now more affordable and that the summer season will be hot in the domestic tourism industry: In the back and also entering the closures for the third and fourth time. "
Shirley Cohen Urakbi, VP of Marketing and Sales at Eshet Tours, added: "We expect that unlike previous years, due to the uncertainty with the opening of the sky, this year Israelis will hurry to reserve the summer vacation in Israel next month, and as August approaches prices will rise. Another factor that could cause a jump in prices is the possibility being considered to extend the studies into July, so that August will in fact be the only holiday month in the summer. "
Anat Aharon, director of marketing and sales at the Fattal hotel chain, said that "booking holidays in advance has always paid off, especially in the current reality where Israel is considered a safe place that is slowly returning to routine compared to the rest of the world. Not only to reserve a place, but also to enjoy discounted prices. "
Tomer Rubin, VP of domestic tourism in the flying carpet, said in a conversation with Ynet: "We are seeing higher-than-usual demand right now for bookings for hotels around the country for the summer, which will certainly lead to price increases later, so we recommend booking a summer vacation now. To ensure the desired vacation and no less important – at the best price. We will also mention that the cancellation conditions are comfortable and flexible due to the corona, so it is recommended to reserve and order from today. "
Yael Tamir, CEO of Blick Tourism and Recreation, said: "We are experiencing awake demand for vacations in general, and for hosting the summer months in particular, with an emphasis on August, because it is still unclear whether there will be learning in schools during the month of July.
"Due to the uncertainty regarding travel abroad at the moment, customers prefer to make reservations for accommodation in Israel. "Those who book accommodation in July-August enjoy a wide range of hotels and the ability to stay in rooms suitable for families, as well as the pre-booking promotions that create attractive opportunities, especially for families – the recycled audience of hotel chains."
According to Tamir, "Demand areas place Eilat as the first choice for a family vacation in August, followed by the Dead Sea hotel area with an emphasis on all-inclusive hotels, and finally the Tiberias and North area, which was renewed this year with quite a few new boutique hotels for couples and families."