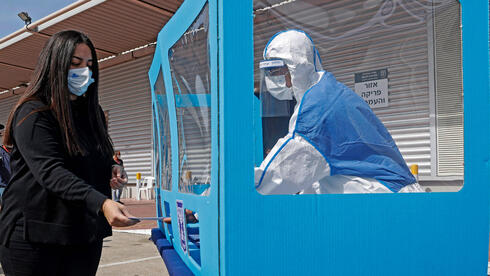 On Tuesday, 6,578,084 eligible Israeli voters will cast their ballots for the fourth time in two years at 13,685 polling stations across the country.
Most polling stations open at 7am and close at 10pm. In small communities, hospitals and prisons, polling hours will be between 8am and 10pm.
Polling stations dedicated for use by coronavirus patients will open at 8am and close at 7pm, although quarantined voters will be able to cast their votes from 7am to 10pm.
Votes cast at closing time will continue to be counted as long as those voters arrive at the station in advance.
Election notices were sent to voters' homes a few weeks ago and all those wishing to cast a ballot were asked to check for changes to their polling station locations due to special arrangements made to replace those suffering from COVID-19 or quarantine.
Each polling station will have a hand sanitizer and voters will be asked to use it before entering. They will also be asked to provide a valid ID card or driver's license and will be asked to remove their mask for a short time until their identity is verified by returning officers.
After completing the identification process, voters will be invited to step into the booth, place the ballot slip of their choice in one of the blue envelopes provided and the envelope. put in the ballot box.
There will be 409 polling stations for COVID-19 patient use only and 342 stations for quarantine people because they have come into contact with a confirmed virus patient or have developed symptoms of the disease.
These voters will not be able to use public transport to get to their polling stations and will have to reach a private vehicle. Some polling stations were built as driving facilities.
People in quarantine who do not have a vehicle may transport free transport to and from the polling station
Media Selection Committee Website
(Hebrew) or by calling 077-6017137.
Special polling stations will also be available for those living in women's shelters, retirement homes, prisons and other care facilities.
Israelis arriving at Ben-Gurion International Airport on Election Day can vote at one of four polling stations there. A separate polling station will be placed in front of passport control for entrants who have not yet received two doses of the coronavirus vaccine.
Eligible voters staying at coronavirus quarantine hotels can vote at on-site ballot stations. Hospitals will also have polling stations, including within coronavirus wards.
Israelis who, on Election Day, feel they have been contracted with COVID-19 but have not yet undergone the test or quarantine must contact the Ministry of Health to be directed to polling stations for coronavirus patients.
All special polling stations (for COVID patients, quarantines or hospitals) put votes in so-called double envelopes, in which the ballot papers are sealed inside two envelopes to make assured of privacy.
These double envelopes, which will also be used by officers stationed overseas, serving members of the armed forces and people in prison, will not be opened immediately after all the regular votes have been counted.
The General Elections Committee will assign 15,000 inspectors to polling stations across the country and cameras will be tested at ballot reports to spot voter fraud.
Officials will start counting the votes as soon as polling stations are closed.
After 10pm, when the last polling stations have closed, the Central Electoral Committee will start collecting counted votes from stations across the country.
The main television stations will release their polls at 10pm.
The results of the last election will be announced no earlier than Wednesday morning and no later than Friday afternoon.
The results will be presented to President Reuven Rivlin on March 31 and can be questioned by April 14, 2021.