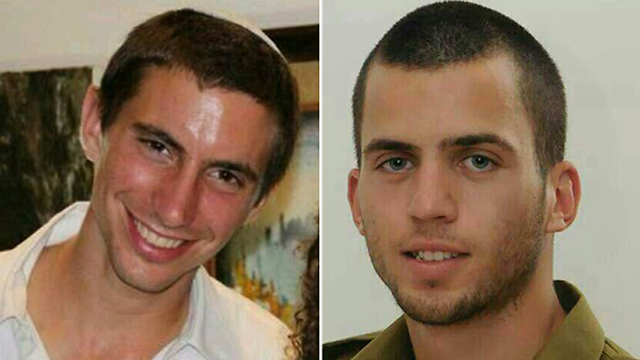 The outgoing chairman of the Knesset Foreign Affairs and Defense Committee, Zvi Hauser, recently called on Prime Minister Benjamin Netanyahu to block a Hamas-reported agreement that would see Palestinian prisoners released by Israel as a reward for the bodies of two fallen IDF soldiers and two civilians believed. held in Gaza.
Hauser apparently saw a version of a treaty that allowed the release of Hamas prisoners without Israeli blood on their hands, although it is not clear whether such a suggestion was even given to the terrorist group.
But the lawyer's public call called Hamas officials to tell local radio stations that Israel was not serious about reaching such a deal.
There is some doubt as to whether Yahya Sinwar – the leader of Hamas in Gaza who himself was released in a prison swap in 2011 – would be willing to push for any settlement with Israel that did not involve the release of Hamas prisoners. if released, including those with blood on their hands.
It is possible that Israel has made some complaints since the latest round of talks with Hamas began in late October, but would not include a change to the list of Hamas prisoners slated for release. if released.
Hamas maintains that any treaty includes a precondition for free Palestinian prisoners to be recaptured by Israel after their release in the 2011 prisoner exchange , returned Gilad Shalit, an IDF soldier after five years in Gaza captivity.
They also claim that sick prisoners, women and young children held by Israel are allowed to go home.
These requests alone would not have prevented an agreement being reached with Israel, but some of the prisoners named by Hamas will not be accepted by the Israeli government.
Sinwar is campaigning for re-election in the Inner Hamas election scheduled for January. His opponents include Khaled Mashaal, the former chairman of Hamas, and Saleh al-Arouri, who founded the group's military wing.
This is not a time for him to make concessions on Israel, especially on the case of Palestinian prisoners, which he himself had for several years. He has gained a reputation for his commitment to releasing many of his fellow prisoners. If he had been seen neglecting that promise, he would certainly have been voted out of office.
Israel seems to have been trying to ease the struggle against Sinwar in recent weeks, with the Ministry of Defense quietly allowing some restrictions on the lifting of the Strip.
Once, Gazan grubs were allowed to leave for international markets and on another occasion potatoes were allowed to export. More money from Qatar was allowed to flow into Gaza last week.
Israeli officials are concerned that Hamas could lose control of a coronavirus pandemic in Gaza. Sinwar has already said that, if that happened, Israel would have to pay if medical equipment and supplies were not provided.
But despite Jerusalem's hopes that the pandemic could be an opportunity to pressure Hamas to make a deal, the terrorist group's demands were expected to be otherwise.
An Egyptian official handing over the talks arrived in Gaza for an hour-long visit last week. His income led to rumors and profiteering that a prisoner swap was imminent, but the talks focused more on issues within Palestine than on a possible exchange.
Israeli defense officials say it is an "attractive" situation. Hamas needs economic progress and to start major infrastructure projects.
Israel has been willing to see talks for a long-term understanding play out but no progress has been made after six years as there is no agreement between the side on which Hamas prisoners would be released.
Both sides need to bend a bit more, but at this stage they don't seem willing to consider it.