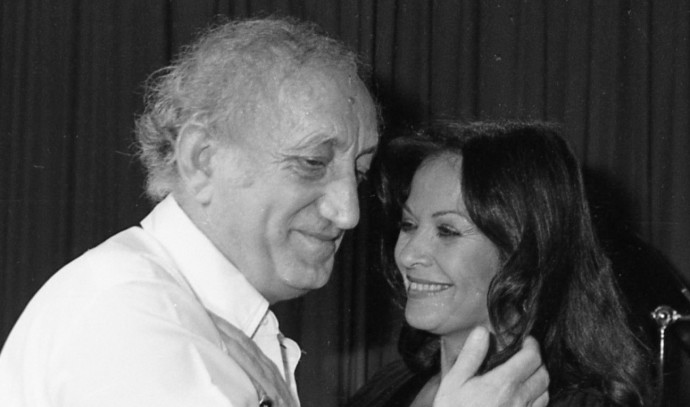 Habima Theater director Noam Semel spoke today (Wednesday) with Aryeh Eldad and Ben Caspit on 103FM, and paid tribute to the man of culture, theater producer and former Habima director Yaakov Agmon, who passed away today at the age of 91. Semel spoke about the competition between Both, memories from the meetings between them and the character that Agmon had.
We of course pay tribute to Yaakov Agmon who passed away today, I guess you probably know him for about 50 years.
"That's right. Something like that. I met him in the early '70s when I was a senior employee at Avraham Desha (Peshanel) and Uri Zohar, and we were competing with Yankele Agmon. He had the Theater Bimot which was a production company of theater, music, dance, etc. and we had the The folk theater that did the pale tracker and Yossi Banai, then I split from Peshanel and set up my company, Entertainment for the People Ltd. and then I went head to head with Yaakov Agmon, I was with Haim Hefer and I would compete with him for Mekorot tenders and Solel Boneh. "The days after the Yom Kippur War, the country is noisy and turbulent, a lot of economic, cultural events, fireworks and Yankele is really a very skilled competitor, very sophisticated and I learned to appreciate his ability and strength, sometimes I won and sometimes I lost."
A decent competitor?
"A decent competitor and also very sophisticated and bastard. His cunning was also revealed in his management. First of all, he started his career as the director of the celebrations of the decade of the State of Israel. The person who brought the fireworks to Israel was Agmon. They brought fireworks from France, they did not know about the country."
Are you afraid of the vaccine for Corona? These are the things you must know Click for details
My generation knows him from the theater and personal wishes, for decades this show has wanted.
"Right, just like that. Yankele in his great sophistication understood the essay, today they say capital rule, he composed something completely different, communication with culture and art. This essay made him moves at the top of the state and economy and there is no doubt that he was a school for his life, because in my opinion He went to an open university, from all my educational backgrounds, he studied a lot from the archaeologists, historians, writers, poets, singers and builders and all the more welcome because he interviewed not only culture and art but also economics and politics and everything. He is very smart about this thing. Called the University of Personal Questions "IDF Waves".
"There was some respect between us, I think one of the pillars of the new Israeli culture born in Israel passed away. 'Rape for young people, made an evening of Naomi Shemer's songs, this is an unending mythology but there is no doubt that his highlight in my opinion is the establishment of Beit Lessin which he accepted as a film and culture club and turned it into a theater. Even on days that did not last financially, but artistically contributed much to Israeli culture. "His ten years on stage, that he got a battered and bruised theater, and it's very interesting that I get the National Theater, I said in his shoes he was also bruised and needs to be rehabilitated from A to T. He also had a big crisis in the chamber when he left after two and a half years."
What kind of man was he?
"He was a very versatile man. On the one hand he was smart and funny, he had a lot of fun drinking whiskey with him, he drank a lot during certain parts of his life, on the other hand he was a bitter enemy, on the third he was razor sharp, you came to meet him , You wear a jumpsuit and get on a flight, you have to react quickly, give decisive answers, laugh or confront him, you can not be a jerk because he immediately despises you and also radiates contempt on you. He did not like uncultured, uneducated or smart people, He loved successful people, smart people, etc. and he loved artists very much, especially Gila Almagor. "