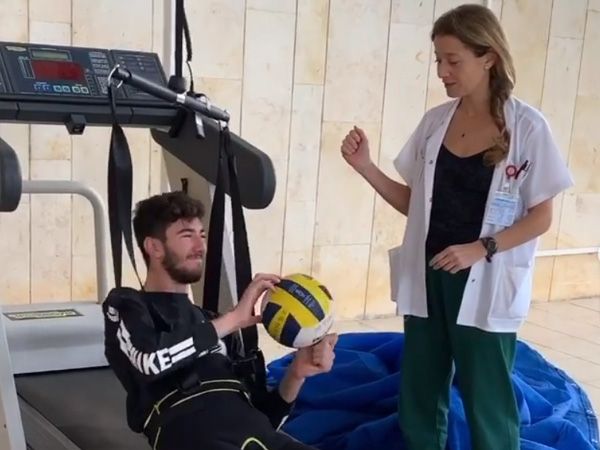 Almost a year and a half has passed since the injury that shocked Israeli football. Habib Ohayon, Who was then considered (was 21 at the time of the incident) the future goalkeeper of Israeli football, fell on his head during a routine training session at the beach in Herzliya and was rushed for emergency surgery following a tear fracture in his neck. Since then his life and that of his family, and especially his father, Moti, who has accompanied him to every training session during his career, have come to a complete halt.
But now there is light at the end of the dark tunnel. Recently, there has been an improvement in Ohayon's condition, who will celebrate his 23rd birthday this August, and after a long period of moving around with crutches, he is approaching the moment when he will be able to do so independently. In addition, after a long period of waiting to be rehabilitated abroad following Corona restrictions, Ohayon flew to Mexico to continue his treatments there in hopes of taking another step toward recovery.
Despite the long period away from football, Ohayon's friends from the days at Hapoel Hadera, as well as the players from Maccabi Tel Aviv are in constant contact with him. Ohayon was injured at a young age, but managed to gather many friends from football. One of them said: "It is impossible not to fall in love, He is one of the best people I have ever met and this training accident was so unjustified. Now everyone is waiting for him to be able to return to normal. "
Life came to a complete halt
Ohayon's entourage calls him a "fighter" and claims that in places where many others would have already broken down, he fights for the rest of his life as he fights in every training or game in order to reach the top of world football. In Hadera, they even approached the family several times in order to hold a ceremony in his honor, but they currently prefer to wait. Hapoel Hadera captain Menashe Zelka is in constant contact with Habib and his father and told them: "I will only get married when Habib gets to his feet and comes to dance and rejoice with me."
As you may recall, at one point he served as Hapoel Hadera's first goalkeeper in the Premier League, the goalkeeper of the young team and before that he was on the verge of signing a long-term contract at Watford, but an injury prevented him from doing so. Right now he and his family are not thinking about a comeback, but only about returning to a normal life. Ohayon himself rarely shares on social media and keeps his feelings and emotions to his relatives.
Furthermore, at the end of November 2020, Ohayon filed a lawsuit against the Herzliya Municipality for NIS 80 million in the Tel Aviv District Court. The National Insurance Institute recognized the injury as a work accident and determined a percentage of disability. In a recent interview with Moti Ohayon to the sports channel, he said: "Habib's condition is difficult, we experience the injury every day. Every morning we start again. I want him to come back to life, that he can drive a car. Rehabilitation is very difficult and his pace of progress is Zero. Every day it takes him 3 hours to get up. "
Ohayon. Promising career cut short (Maor Elkelsi)
Zelka. Promise to the Ohayon Family (Ancho Gush, Ginny Agency)