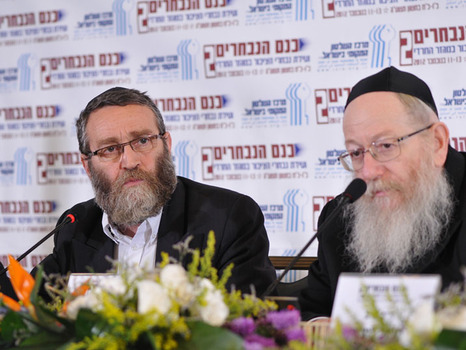 Tonight (Tuesday), the chairman of the Finance Committee, Moshe Gafni, rejects Health Minister Yaakov Litzman's proposals regarding the sharp dispute between Degel HaTorah and Haifa Mayor Yonah Yahav over the appointment of Michi Alper as deputy.
In his letter, Gafni writes that he was puzzled by Litzman's proposal: "Thank you for accepting your letter regarding proposals for resolving the crisis of violating the coalition agreement in Haifa and I was puzzled by it because you offered me these proposals face to face and there was no need to write them.
"For the first time since our public activities for decades we encounter an illegal phenomenon in which an anti-Haredi mayor disqualifies a duly elected Haredi representative, signs a coalition agreement with us and announces that he disqualifies the representative and demands the appointment of another representative in his place," Gafni writes.
According to him, "Rabbi Michael Alper represents the ultra-Orthodox public with endless loyalty and devotion to the sacred and precious issues for us such as Shabbat, Torah education, religious services and more and more. And an injury to the dignity of the ultra-Orthodox public and its representatives. "
"It is not possible that an ultra-Orthodox representative who fights for the Sabbath, the saints of Israel and the education of our children will suffer and be persecuted for it.
"This situation reminds me of the Gam 'article that" in the time of destruction we are fighting for the Arqa Damasani "and therefore despite the good intentions in your proposals I reject them outright because Rabbi Alper is Torah Judaism and none of us will in any case and at any time harm him and what he represents.
MK Gafni signs: "The only proposal is for Yonah Yahav to be respected and to respect the agreement. Today we are all Michi Alper! "
As you may recall, this morning we published here on the "Kol Chai" website the proposal of Health Minister Litzman, the first proposal to give the deputies next in line. Next in line is Yated Ne'eman reporter Arie Zisman, who will take over, according to Litzman, by resigning from Blittenthal. The compensation for the resignation will be given to Blitenthal next time at the expense of a half-term flag.
The second proposal is to give Blitenthal the second half of his term, and in return, Degel HaTorah will receive a full term next time as deputy mayor.