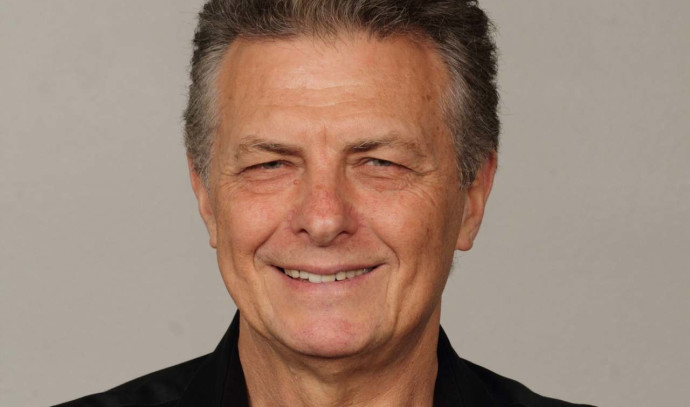 If we once deceived ourselves that hive members would stay young forever, we were left with the illusion and they harden before our eyes and celebrated 70 one after another. This week it was the turn of drummer Meir Penigstein, Foggy if you will, who on his 70th birthday opened from his home in north Tel Aviv – Corona or not Corona – the 34th Israeli Film Festival in Los Angeles and his arm is still outstretched. The online festival this time will run in the City of Angels until December 27 and will close with "A Night in Haifa," a film by Amos Gitai, another 70-year-old. Time travel to the sounds of drums and cymbals.
The beginning: Fenigstein was born in Ramat Gan to a musical family. His father, Shimon Penigsteyo, who owns a cardboard container factory in Jaffa, who was 46 when the jewel was born to him, played the violin, piano and mandolin for his enjoyment. His son only wanted drums. "It's in my blood." Among his teachers were Yosef Burla and Ahrela Kaminski.
Nahal Band: In a story like in fairy tales, Fenigstein becomes the drummer of the senior military band. One day he left a class at Burla, in Jaffa and boarded his bus to line 10. Suddenly he felt a pat on the shoulder. "Are you a drummer?", Asked him who was sitting behind him. 17.5-year-old Fenigstein almost missed the opportunity of a lifetime. When the pat on the back, Itzik Weiss, offered to replace him as the drummer of the Nahal band, Fenigstein inflated his chest and bragged that two weeks earlier he had been accepted into the Armored Corps band.
In short, Fenigstein relented, came back and was "kidnapped" by a citizen for the Nahal band's 21st program, whose hits were "In a Red Dress", "Carnival in the Nahal", "The Beautiful Life" and "Peace", alongside its stars, Ofira Gloska and Moti Fleischer, there first met Danny Sanderson, the electric guitar player. In the next program, "By the Nahal Holding in Sinai", which was published with "Shir LaShalom", he met three other members of the "Hive" nucleus – Alon Olarchik, Gidi Gov and Ephraim Shamir.
Are you afraid of the vaccine for Corona? These are the things you must know Click for details
"Foggy": "Like many good things, Foggy was born by chance. One day we, the Nahal band, came to perform at Mefalsim, a kibbutz of Argentines in the south. A trio of levels appeared in front of us. Her chubby, short presenter was twice as old as us. He took the stage and in a nasal voice and in a prominent South American accent, that made me laugh, he introduced his friends. When we got on the bus, I do not know how it turned out, I mimicked it with the words 'Good evening, you can go home'. At that moment I, the drummer, became an imitator as well. The guys wanted more and Danny (Sanderson) was full of unnamed excerpts their name we called Foggy because it's such a nice name.
"Dori Ben-Ze'ev contributed to Foggi's popularity when he dedicated a permanent corner to her in his program on IDF waves. Without asking for the name Foggy was stuck to me as a nickname and I could no longer escape it. Hive's first record is called 'Foggy Stories' and the second is 'Foggy in Pita'.
Hive: During the band's performances, Fenigstein did not diminish his drum artillery and, in addition to Foggy's passages, contributed to his comedic ability in other sections as well, participating in singing, including solos in the songs "The Ballad of Ari and Derchi" and "Lou Lou". He is also one of the authors of "The Boob Song". In 1976, he was a staunch opponent of disbanding the band. "I said if the band broke up, I would break up with it," he recalled. "I thought without a hive I would have nothing to look for in music or on stage, because being just a drummer is not me."
Eurovision: "In '74, we, Hive, represented the State of Israel at the Eurovision Song Contest in Brighton, England. It was a very, very exciting experience, something above and beyond. We really felt there in the clouds. Prior to the trip, it was decided that we would appear in uniform. There they bought us such funny vests, hoping it would look like a band.
"In Brighton we were in good company. The band 'Abba' rightly won with 'Waterloo' in first place and in third place was Olivia Newton John. For us also the seventh place we took with the song 'I gave her my life' respectable. Besides then, a year and a half after the Munich disaster "We were closely guarded and two English policemen escorted me to the bathroom."
Actor Fenigstein: After dismantling a hive, he flickered for a while as an artist. "I had a crazy time back then," he recalls. "In the morning I was photographed for Avi Nesher's 'The Band', from there I would travel hysterically to Jerusalem, rehearsals at the Khan for Danny Horowitz's 'Charlie Catcherley' and in the evening I accompanied Arik Lavie, an amazing character with a lot of pathos and energy, in a performance.
"Before 'The Band', the movie where I was in the role of the drummer, like in the Nahal band, I played in the movie 'Aunt Clara', directed by Avraham L'Hefner, who was years before me in the Nahal band. Can't believe how I came to his film. One when I was driving in Dizengoff, I saw Shmuel Rudansky, the lovable actor with the roaring voice. I stopped my 'mini minor' and asked him where he wanted to go. Rudansky tried to dodge the ride I offered him, but it did not help him. He stared at me and said to me in his familiar voice – 'Are you actually a very handsome guy; would not you like to play in the cinema?'. Want, want. 'Listen guy', he said, I have a role for you. 'In short, through him I came to play with him' '".
Savior Olarchik: "I was completely confused between film, television and music and had no idea what I wanted to do with my life. Alon, who studied music at Berkeley, Boston, was the one who encouraged me to follow him. He was 'guilty' of turning my life around. I came to America for music and became a man of cinema. "What I never dreamed of being. And Berkeley? – I studied there for a year and a half and that was enough for me."
The Israeli Film Festival in the United States: "This festival was born out of nothing. Some professor I knew at Berkeley asked if I could bring two films from the country. I turned to Menachem Golan's 'Noah Films' company and got the filmmaker who has a collar. "Why only two movies? Take six and you'll have a festival!", He put the idea in my head. I heard that in Toronto, Canada, there is one that organizes a Jewish film festival. I went to her to see how to do what.
"I saw and organized the first festival in Boston. An audience came, but not in droves. A miracle happened to me here. A Jewish dentist noticed me and told me he enjoyed the movie he watched and asked if I had any intention of posting an ad about the festival. Who even had money for it? 'Blood published an ad in the most important newspaper in Boston. The next day, the halls were blown up in the crowd. The festival kicked off on the right foot. From Boston he traveled to New York, Miami, Chicago and especially Los Angeles, where he was held online this week. "Not only did I organize it from the country, which I have been doing since I returned to Israel in 2013, but because of the corona I was prevented from reaching it."
Hive Union: Despite his geographical distance from the country for many years, Fenigstein has been an ardent supporter of Beehive Unions since the '84 reunion, accompanied by Olarchik's hit song "This is Meir and this Alon" (who came from the United States) and took an active part in all 98 ', in 2000 and 2013. "If I am called, I will come," declares the faithful soldier Foggy.
Family: Penigstein, who stuck to his bachelorhood until the age of 52, is married to Jesse, an Israeli despite her name, many years younger than him. The youngest of their three children is younger than one of his two grandchildren from his illegitimate daughter, Rachel, now a doctor in California, whose existence he learned of when she was 18 and has had a warm relationship ever since.
And the dream? "Same dream as before. I still want to produce a motion picture. Apparently, it's not enough for me to produce a festival with other people's films. I deserve it too. At 70 I may still have a chance."