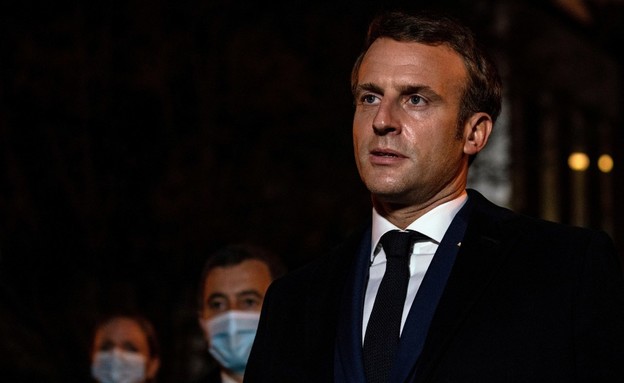 French President Emmanuel Macron has been diagnosed as positive for the corona virus after developing mild symptoms, the Elysee Palace said today (Thursday). Macron will stay in solitary confinement for seven days and will continue to perform his work remotely. At the moment, it is not clear how Makron got infected and all his travels were canceled. Also French Prime Minister Jean Castex andSpanish Prime Minister Pedro Sanchez went into solitary confinement after meeting with Macron.
For more updates and to send your stories – visit the news Facebook page
"The French president has been diagnosed as positive for Corona today," Macron's office said in a statement. "The diagnosis was made following an examination PCR Performed at the onset of the first symptoms. The president will be in solitary confinement for seven days and will continue to do his job remotely. "
Macron had a busy week in the days leading up to his diagnosis of blue in Corona. On Tuesday he met with several people, including the President of the International Committee of the Red Cross Peter Maurer, and only yesterday he met with the Prime Minister of Portugal Antonio Conte and attended a cabinet meeting. According to the AP news agency, Macron attended last week's EU summit in Brussels. At this point it is not clear how many days back the epidemiological investigation will go and when Macron will be infected.
Last week, French authorities announced a nightly closure – a restriction that went into effect last Tuesday. Following the closure announced in the country in late October, the government conditioned the easing of restrictions on a drop in the number of people infected below 5,000 a day. However, the figure continues to be high, and in the last day alone, 17,615 new infections were diagnosed in the country, compared with 11,532 the day before.
Following this, the residents of the country were instructed to stay in their homes from 20:00 in the evening until 06:00. "We have not yet reached the end of the second wave and we will not reach the goals we set by mid-December," Prime Minister Jean Castax announced. "Our defensive walls must not fall down in terms of infection. We must remain focused, be careful in the coming weeks and be vigilant in terms of guidelines."
The president of France was preceded by several leaders of countries infected with the virus, including US President Donald Trump, British Prime Minister Boris Johnson and Brazilian President Jair Bolosonaro. On October 1, Trump announced on his Twitter account that he and his wife Melania were positive about the virus. Received experimental treatment and was referred to the Walter Reed National Medical Center Military Hospital.
Four days later, while still ill and potentially endangering his entire immediate environment, Trump removed the mask from his face as he returned to the White House in favor of photos on the porch. Before and after his release, the president called on the American public: "Do not be afraid of the corona plague and do not let it control your life – we have the best medicine in the world."
In April, British Prime Minister Johnson Blue was diagnosed with corona. At first, people around him claimed that he had only mild symptoms, but within a few days, his condition deteriorated. Johnson was rushed to a hospital, in what he called "routine tests." A day later, his condition worsened and he was transferred to intensive care. Johnson received oxygen therapy but was not connected to the respirator. At the end of a lengthy recovery process, Johnson's condition improved and he expressed his gratitude to the dedicated team of doctors and nurses who saved his life.
Brazilian President Bolusonaro, who has consistently belittled the plague, was also diagnosed with corona in July. Although forced to retire to the presidential palace in Brasilia, Bolosonaro made sure to show vitality and attributed his recovery to the use of hydroxychloroquine, an anti-malarial drug that has not been proven to aid recovery from corona.