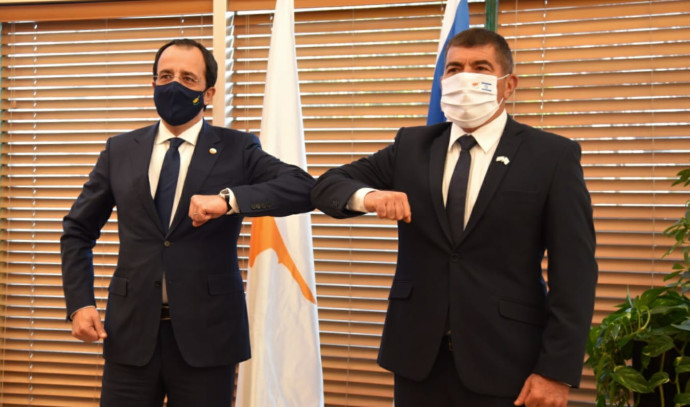 A delegation from Cyprus that included President Nikos Anastasiadis and Foreign Minister Nikos Christodolidis landed in Israel today (Sunday). Representatives met earlier with the president, Reuven Rivlin, Where they agreed on common understandings regarding the opening of tourism. Afterwards they met the Foreign Minister Gabi Ashkenazi, And at 18:00 are expected to meet with the Prime Minister, Benjamin Netanyahu.
Foreign Minister Gabi Ashkenazi meets with his Cypriot counterpart in Israel (Photo: Foreign Ministry)
Minister Ashkenazi met with his Cypriot counterpart and announced that Cyprus would also recognize the vaccinator's certificate, thus enabling tourism in the country. "This will allow, within a few weeks, an increase in the number of vaccinated tourists from Israel. This is also a continuation of the agreement between us on opening the skies to tourism based on corona tests from the beginning of March." This is after last week, the same agreement was reached with the Greek government.
He also added that the two are expected to discuss the decision of the criminal court in The Hague, according to which he allows the prosecutor in the court to open a criminal investigation against various elements in the State of Israel. "Israel rejects the outrageous decision, which is legally wrong with very detrimental policy implications for both the tribunal and our relations with the Palestinians. It rewards Palestinian terrorism and the PA's refusal to return to direct negotiations with Israel. We call on countries not to allow the political exploitation of the tribunal. "