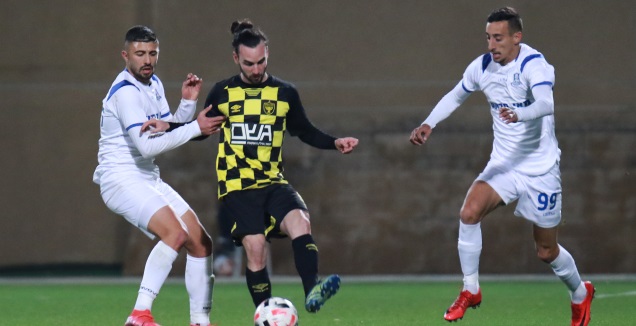 Guy Ben Ziv 24/02/2021 00:00
After advancing to the quarterfinals of the cup, Betar Jerusalem will play tonight (Wednesday, 20:00) its final game in the Premier League when it is hosted at the Moshava Stadium by Maccabi Petah Tikva, in order to climb up the table and escape the area at the bottom.
Slobodan Drapic He said ahead of the game: "The period was very challenging, I have never experienced anything like this in my life, that even after such a period of Corona we have to play every three days or so. The players cope in an unusual way. We also have tired players injured. We try to do the We played good football against Acre, and less against Sakhnin and Maccabi Haifa, but we are at a stage where there are new players, and there are players who are getting into shape, so I am sure that Betar Jerusalem will be a good team. "
The challenge to lift the players: "As we see today. Nico Olsk is injured, Tamir Adi is injured, Ali Muhammad is not 100 percent but he will have to play because we do not have players in that position. The new players who came did not play football for half a year so we are also waiting for them. They're quality players, but we need some time to let them acclimatize, it's not an easy thing. We want to bring someone from training and let him already play and suddenly want to see from him a performance you never see. We know it will take time, but on the other hand there is pressure. Bring points. We need the missing games to win and stick. There is no doubt that we are a good team and going through a process, we want it to happen as soon as possible. We have a game in Beer Sheva on Sunday and Sakhnin on Thursday. A crazy period. An unusual period. this".
About Maccabi Petah Tikva"It's a very difficult team. We lost to them in the first round. A good coach, a young team that wanted. Very difficult. If we are not given a good and heroic game, we will not get anything good out of it. We have to be very focused and united and I hope we smile after a game."
Jankovic's arrival: "We really wanted him, I picked up some phones. I was told that such a player would not come to the country and that he fell between the chairs. I am glad he came. I heard a lot of things about him, his career had to take off to other places, something went wrong there and luckily he came to us. "Excellent character, players also really like him, I hope he gets in shape quickly and sees what he's worth."
Marko Jankovic He himself said: "In a very short time I feel like I have been here for a year or two, everyone here, the coaches, all the people around and the players, received me in the most beautiful and warm way. I really thank God for that, and now is the time to work very, very hard. We have a lot of games and we have to be focused and go step by step in every game. "Every game is very important now and hopefully we can reach our goals."
Return to plots: "It was my first game after half a year, so I was very happy to hear that I was starting in the squad. I worked hard all this time, even if I was in a special situation, but of course I will need some time. Every game helps me improve my abilities and fitness, so now it's "A very important game, with a much better opponent, so it will be much harder. We will have to give the most."
What he heard about the club: "I heard a lot of good things, especially from Patos in Chirai, who is one of my teammates on the national team. He played here in Israel, so we talked about the league, the country, the teams and Betar. He told me that this is one of the biggest clubs in Israel, with a lot of fans and that they are the best here in the country. He told me it would be interesting for me to come and get back in good shape, and maybe from here make a jump and a good transition. "