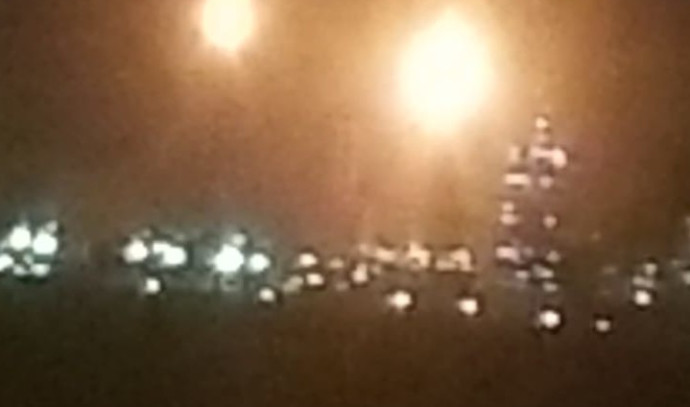 Mild moments of anxiety were recorded in Haifa when two huge flames were observed from the area of ​​the refineries in the Petrochemical Industry Zone in Haifa Bay. In addition to the large torches, black smoke was observed, indicating that not all the gases were burned during the emission process to the "torch" chimneys – a sight indicating a malfunction, according to the Haifa Bay Cities Association for Environmental Protection.
The inspectorate said that "from an inspection conducted by the union drive, it was reported that one of the facilities at the refineries had ceased operations and we were competing in the incident." It was also reported that the heavy smoke was released to prevent a more significant malfunction inside the complex.
Part of one of the cooling towers at the refineries in Haifa Bay collapsed
Advocate Sarit Golan, chairwoman of the Haifa Bay Environmental Protection Association, said: "While families are sitting around the Shabbat table, they are forced to witness the horrific sight of burning torches while emitting toxic substances into the air. This incident, like other incidents that occur from the ZAN compound "Time and time again, we strengthen the position of the Association of Cities that the petrochemical industry must be evacuated from the heart of the population, and this is the decision that the relevant government executive committee must make in order to prevent the many dangers posed by this complex to the public."
As you may recall, in July there was a serious and disturbing malfunction in the refineries in Haifa Bay, when one of the large and historic chimneys at the site collapsed. This case added to the widespread criticism against the site's proximity to a large civilian population.
Are you afraid of the vaccine for Corona? These are the things you must know Click for details