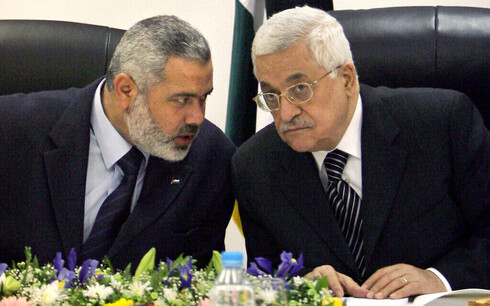 Palestinian President Mahmoud Abbas' s Fatah party and its Hamas militant rivals would fall short of a parliamentary majority if elections are held in May, forcing them to join forces with each other or smaller parties to form a government creation, according to a poll published Tuesday.
Abbas has ruled on Palestinian elections for May 22 in the first general vote since Hamas won a landslide victory in 2006. The process appears to be on track, but disputes could be between the long-controversial groups postponed or postponed the vote.
The poll by the Palestinian Center for Policy Research and Survey found that if elections were held today one Fatah list would win 43% of the vote and Hamas would win 30%, with 18% of voters undecided.
But a group led by Mohammed Dahlan, former chief executive of Fatah that had a fallout with Abbas and is based in the United Arab Emiratos, would win 10%. Nasser al-Kidwa, who was kicked out of Fatah after creating his own list, won 7%. They would draw votes from Fatah in the main, dropping its share to about 30%, the poll said.
The renowned PCPSR conducted face-to-face interviews with 1,200 Palestinians across the West Bank and Gaza, with a margin of error of 3%.
PCPSR director Khalil Shikaki said Fatah is believed to be capable of addressing most of the main concerns of the electorate, including the renewal of national unity, economic development and the construction of Israeli-Egyptian Gaza trade imposed after Hamas seized power in 2007. But Fatah admitted that weakening conflict could vis-à-vis Hamas more controlled and united.
"Both Fatah and Hamas have major problems," Shikaki told reporters. "Hamas' main problem is the idea that it can't deal with the main challenges. Fatah's main problem is the splits."
He said it seems unlikely that even a late swing from Hamas would be enough for the group to repeat their impressive victory in 2006. That ended months of face kicking with a week of street battles in Gaza in which Hamas deployed Abbas loyal forces.
Since then, Hamas' rule over Gaza has eroded its popularity, and the pleasurable lifestyle of some of its exiled leaders means it can no longer campaign as a subordinate. an abrasive page which puts its principles before the convenience of materials.
"It seems clear that Hamas does not have the opportunity to have a majority in parliament," Shikaki said, adding that the most likely scenario is a national unity government or a Fatah-led coalition involving smaller parties.
He warned, however, that unforeseen events – such as a prisoner exchange between Hamas and Israel or Israel's targeted killing of a veteran – could turn public opinion in Hamas' favor between now and the election.
It is unclear how the international community would react to the formation of a government led by or including Hamas, which has fought three wars with Israel and is considered a terrorist group by foreign countries. West. The Hamas international boycott after the 2006 elections was one of the main drivers of internal movement.
Shikaki said most voters seem to have paid attention to the possible consequences of the Hamas impact, which may be the reason for some of the things that pleased Fatah.
"People's decisions about which party to vote seem to be clearly based on cost-benefit calculations," he said.