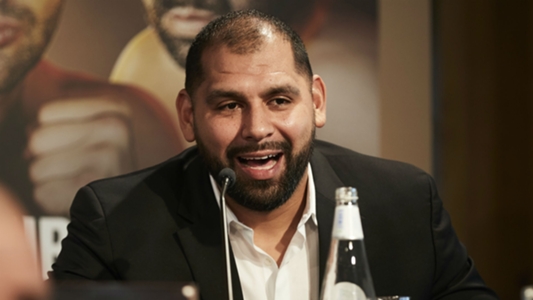 Former goalkeeper Eric Molina is delighted to have the opportunity to block the progress of Britain's expected Fabio Wardley on the Dillian Whyte vs Alexander Povetkin 2 underdog in Gilbraltar on Saturday.
Wardley has made a huge impact in his first 10 professional tours so far, winning everything but his first four rounds through hitting and slowly but surely moving up in the quality of the opponents.
American Molina, 38, has shared a ring with the likes of Anthony Joshua, Deontay Wilder and Filip Hrgovic and is giving the Ipswich fighter the toughest challenge to date.
In fact, Molina told Sky Sports on fighting week that he sees Wardley as the easiest challenge of Britain's heavyweight crop right now.
He said: "I honestly don't get it, I think he has a lot to learn. I see a lot of flaws in his movement, in his movement when he is punctuating. .I think there's a lot of chance for him to collapse.That's really what I think.
"It's kind of hard to watch him come in, and his career. Short, without amateur experience. You can't tell me he's doing everything right. If you watch a move and watch a throw, and even watch it in its fights, there is plenty of room to take advantage of it.
"I think there are some ups and downs. I won't mention other names. I think a big batch of young depression is coming up and if you ask me, a- out of the young depressions I would rather face in that foundation, I would rather face Fabio Wardley.
"Those bookies got me 20-1," Molina continued. "They prefer it. I mean, come on man. This guy, his best advantage is that cruiser weight he fought. He was a lot bigger than that guy, and he was that guy is even putting a pound on him. I'm excited. "
Watch Wardley vs Molina on the Whyte-Povetkin 2 sub-card this Saturday, March 27, on the Sky Sports Box Office in the UK and Ireland and on DAZN in most other countries around the world. To check out for the fight on DAZN where you live, click here.