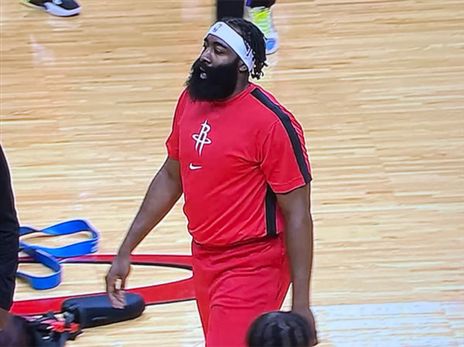 Much has been said during the break about James Harden, and not necessarily in a positive context. The superstar, who wanted to leave Houston in the summer and did not attend team training, played tonight (Tuesday-Wednesday) for the first time in pre-season games, but was far from his usual ability.
The man with the famous beard scored only 12 points (3 of 10 from the field) in 21 minutes, but what caught the viewers' eyes was actually his outward appearance, with overweight. His image from the former MVP's warm-up began to run on the net, and with it the memes. In the game itself, the Rockets defeated San Antonio 98-112 with 15 points from John Wall, who came at the expense of Russell Westbrook. By the way, Harden refused to be interviewed.
"Houston has built an organizational culture whereby you do whatever James Harden wants," read a comprehensive ESPN article. "He had never heard the word 'no' from Houston, and now they are paying dearly for it. They will have to deal with the porridge they cooked."
"James Harden is not to blame for this, the organization is to blame. Anyone who has been a part of the Rockets knows that this is how things worked," it read. "Arden's power was excessive, he would do whatever he wanted. Everyone knew that once Arden was given days off, he would fly, go out to parties without a permit and then go back and record a triple double with 50 points. When everything worked out, no one complained about the conduct, but Today the reality is different. "
"When James Harden was part of the team, nothing would have happened at the scheduled time, only at his own time," the article added. "The plane was always waiting, the bus was waiting for him. Everyone was waiting for Harden. At the beginning of last season Houston was very worried about the combination of Westbrook and Harden, realized it was explosive and a team could not succeed like that, but no one dared think of parting from them."
According to other stories, if there was time between games, Harden would organize another day off for the entire team in the city where they played before returning to Houston, whether it was Los Angeles, Phoenix, etc. Sometimes he would even book a charter flight to Las Vegas in between.
Incidentally, it was also alleged that Harden pushed to bring in reinforcement players every summer, and would have threatened to leave the trade if the club heads had not been able to get certain players.
Bottom line, Harden's future in Houston does not look promising: "You can not allow a child to eat candy every night, then one night get mad at him and complain about it. Houston has built the organization around him, and now they are paying for it."
Yep I got a wig on.😑 https://t.co/9gF9X9vZs3

– Kendrick Perkins (@KendrickPerkins) December 16, 2020
This really got "Rick Ross" trending. 💀 pic.twitter.com/pCJTtnYgHS

– Hoop Central (@TheHoopCentral) December 16, 2020
Did the NBA just sim to 2035 on James Harden? pic.twitter.com/O2zswt2Cdn

– Troydan (@Troydan) December 16, 2020