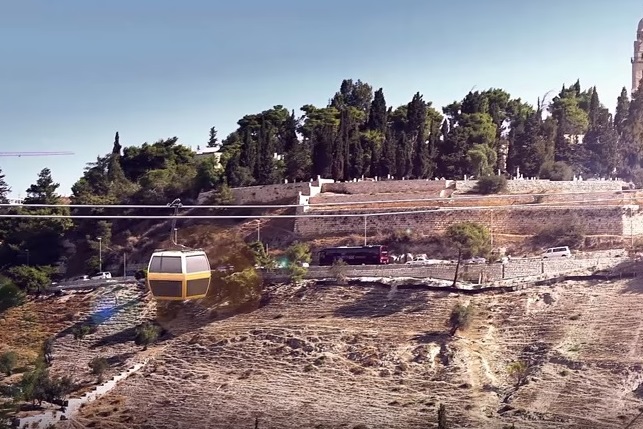 Following a petition by far-left organizations, the judges demand that the state explain why the transportation project was approved on a route approved for tourism projects. • Global Karaite Jewry also petitioned, claiming that the cable car route would damage the Karaite cemetery and cause it to be desecrated.
Another obstacle on the way to the construction of the cable car project to the Western Wall: High Court judges this evening (Tuesday) issued a conditional order asking the state to answer a series of questions and explain why the cable car project was approved on an exceptional route.
Enter: Registration for day care centers for the school year 2007 is going online
Food Purchase Tickets: When will they be distributed? Who is eligible for assistance? How much money do you get?
You do not have to be a volunteer in an emergency organization to save a life. You can too
Supreme Court President Esther Hayut and Justices Yosef Elron and Anat Baron demand that the state explain why the plan was approved by the National Infrastructure Committee (VOTAML), which is suitable for tourism projects and not on the route suitable for the transportation project, and to clarify whether All the factual infrastructure required, including professional and up-to-date opinions, to be the cable car project 'Transport infrastructure that can serve as a tourist attraction' along with its ability to 'make a real contribution to tourism in the area', as required by section 76B1 (b) (4) of the Planning and Construction Law ".
The judges also wondered "why it will not be determined that the dominant component in the cable car project is the transportation component even though the project was defined as a tourism project, which then does not fall within the powers of the Hotel".
The state was given two months, until April 22, to respond.
The petition against the project, which is supposed to be a tourist attraction for visitors to the Old City and the Western Wall, was submitted by, among others, the far-left organization 'Emek Shaveh' and the organization 'Adam Teva VeDin'.
In addition, she petitioned against the "World Karaite Judaism" program, and consequently the conditional order also includes the demand to respond "why in any case will the program not be changed so that the cable car route does not harm the sanctity of the Karaite cemetery and does not cause its desecration."
Print an article