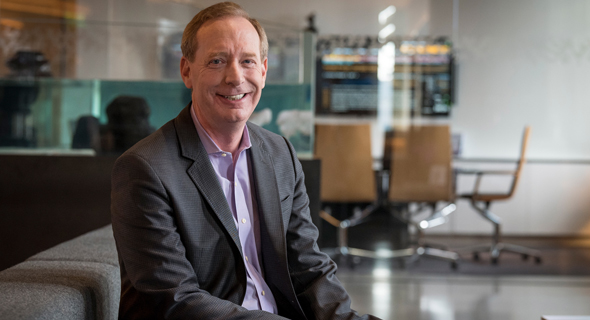 Microsoft President Brad Smith published a post on the company's blog yesterday (Thursday) in which he refers to the series of recent cyber attacks against the US administration and mentions, among other things, the Israeli NSO as one of the reasons for the increase in such attacks.

In a post titled "A Moment of Reconciliation: The Need for a More Strict Global Cyber ​​Response," Smith refers to the hacking of computers by the various arms of the US administration in which Russian hackers have been accused.

He writes: "The last weeks of a challenging year have proved even more difficult with the recent exposure to a string of serious cyber-backed cyber attacks." These attacks, he writes, "are in fact an attack by the United States and its government and other critical institutions, and they illustrate the ways in which the security sector is changing and becoming more dangerous. The attacks require us to look with open eyes at the growing threats Global Security Response. '
Mexican activists and journalists are protesting against the NSO
Photo: Reuters
Smith goes on to point out three reasons for the rise in cyber threats and attacks, the first is an increase in the determination and sophistication of state-backed attacks, the second is the connection between the corona plague and what is happening in cyber, and the third is the privatization of cyber attacks to private companies. The Israeli NSO and only her.
"One company that illustrates this new sector is the Israel-based NSO Group, which is currently involved in a lawsuit in the United States (Smith apparently refers to a lawsuit filed by Facebook against the company, HAR). NSO manufactures and sells to governments an application called Pegasus, which can be installed on the device simply by calling WhatsApp. The owner of the device does not even have to answer. '
Smith adds that the NSO represents the growing fusion between sophisticated technology produced in the private sector and state-sponsored attacks. He cites the study by Canadian Citizen Love on the extent of Israeli society's technology use in non-democratic countries and notes that this entire industry has become a global $ 12 billion market.
"Countries today have a growing opportunity to buy tools that will be used in sophisticated attacks. And if there is one stable thing in the software world in the last five decades, it's that money is always more common than talent. "To the leading political aggressors, and secondly, it produces rapid prosperity for other governments that have the money but not the people to make these weapons. In short, it adds another significant element to this field of cyber threats."
Smith devotes the second half of the post to discussing what the response to these threats should be, noting that a new strategy is needed to address them. One of the first things the Biden-Harris administration needs to do, he writes, is to intervene in the legal proceedings against the company in the United States. "One of NSO's arguments is that it has immunity from prosecution in the United States because it operates in the service of foreign governments … Microsoft joins a number of other companies that oppose this claim and the new administration should also intervene with that claim."
NSO in response: "As the first company in the world to lead the formulation and adoption of regulatory principles and compliance policies in the field, we join Microsoft's calls for a comprehensive global policy that will enable countries to defend against cyberattacks by irresponsible powers and individuals."