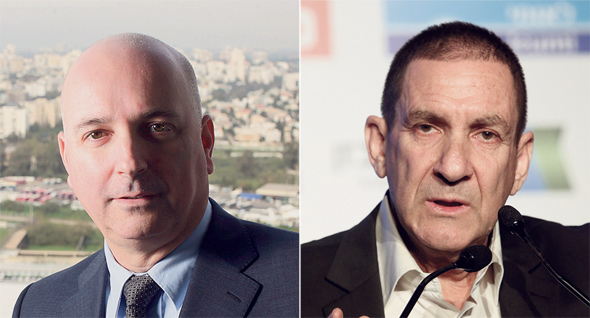 Corona vaccines are already here, and now Israel is preparing for a large and complex vaccination campaign. One of the great complexities will be the difficulty of convincing and encouraging people to get vaccinated. There are already people in the business sector who have begun to prepare for this, and in recent days various initiatives have emerged to encourage the vaccine.
The electricity company, which employs about 11.5 thousand workers, has applied to the Ministry of Health for instructions for carrying out the vaccine, with the starting point being that all its workers be vaccinated as soon as possible. According to the company's chairman, Yiftach Ron Tal, "the company has critical areas for the continued proper operation of the energy economy. Managers and employees, several hundred, who belong to this group, are committed to a high priority for vaccination. To set a personal example, the directors of the Electric Company and I, in particular, will be ready to receive the vaccine at any given moment. "
Egged, which employs about 5,000 people – many of them drivers who come into contact with people – will encourage vaccination. As for drivers who refuse to be vaccinated, Egged replied that they will wait for the Ministry of Health's instructions: "We will encourage workers and drivers to get vaccinated, but it is important to remember that every employee can act according to his conscience and we can not force anyone to drive against his will." At Israel Railways, which employs about 4,000 people, the management is examining how to promote the issue of vaccines among its employees.
Right: IEC chairman Yiftach Ron Tal and Meitav CEO Dash Ilan Raviv
Photos: Zvika Tischler, Amit Shaal
Fund workers will be in the first vaccine group
The HMOs prepared in advance for a vaccination operation and are the first to be vaccinated, already on Sunday. Fund managers conducted surveys within the funds and encouraged vaccination while emphasizing its importance. All the directors of the funds announced that they would be the first to be vaccinated. However, there is no obligation or incentive – since these are two actions that are prohibited by law.
Some employers are already working to put their employees on the list of first to receive the vaccine. Calcalist received a letter from Yaron Yitzhari, CEO of Medtronic in Israel, who also serves as chairman of the Israeli Medtech Association, in which he addresses Corona projector Prof. Nachman Ash with a request to prioritize employees of medical technology companies, who "actually act as staff in the health system. Including the hospitals, "Yitzhari wrote.
The letter comes following companies' requests to employers to get the vaccine first, as many of them have been exposed to Corona in recent months in hospitals, and quite a few have even been forced to stay in isolation as a result of exposure to verified patients. "In our industry there is no need to incentivize workers to get vaccinated, the requests come from the workers," Yitzhari noted, "We are also defined as emergency enterprises and feel like the flesh and blood of the health system."
Israel is considered a world center in the field of medical devices and medical technologies and this industry employs thousands of workers. Medtronic alone employs close to 1,000 people in Israel in medical equipment companies it has acquired over the years, such as Mazur and Diversity Imaging. Among the large and well-known companies in the field are, for example, Lumenis, Teva Medical, Itamar Medical, Novocure, as well as the local representatives of giant companies such as Philips, Siemens and GE and Medtronic. These are mainly employees who come to hospitals on a regular basis to provide support for radiology equipment, procedures such as cardiac catheterizations and procedures that involve heart valves and implants.
IAI intends to encourage its 16,000 workers to be vaccinated. The company is examining the possibility of having vaccines at the company's facilities in cooperation with the funds, so that the vaccines for Corona will be available to all employees. The company recently completed its two-year flu vaccines for employees, this year in greater numbers than ever. Employees or visitors will not be required to be vaccinated.
At best, the employees are financially encouraged to be vaccinated
The person who has already taken the initiative to encourage employees to get vaccinated is the CEO of Meitav Investment House, Dash Ilan Raviv. During a candle lighting event held by Raviv, Raviv announced that those who get vaccinated will receive a NIS 500 bonus. Companies, want to get back to routine as soon as possible … I feel it is my responsibility as an employer to do this. The incentive is the right tool … we know how to motivate our employees by incentives. We do it all the time when we want them to sell more, etc. "
The Ministries of Culture and Health are beginning to think about the day after the vaccination, and at a meeting held between Ministers Hili Trooper and Yuli Edelstein, we discussed the model of green cultural complexes. At the meeting, it was decided that after the start of the extensive vaccination campaign, a model of green cultural complexes will be promoted that can begin to operate in accordance with the disease state and in light of the rate of vaccine progress. The possibility of starting an experiment with the model even earlier will also be examined.
At the meeting, which was also attended by Projector Ash and the head of public health services, Sharon Elrai-Price, it was agreed that the world of culture would be among the first to work on a model of entry for those who hold a green passport. The plan will be implemented in accordance with the outline that will be formulated and agreed upon by the two offices soon.
Participating in the writing: Sophie Shulman, Lior Gutman, Maya Nahum Shahal, Hezi Sternlicht, Adrian Pilot and Udi Etzion