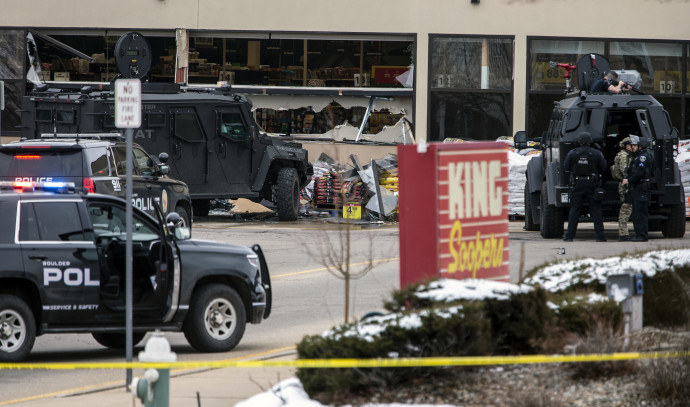 At least ten people were killed during a massacre that took place during the night (Monday through Tuesday) at a supermarket in Boulder, Colorado. Police reported that the suspect in the deadly shooting was arrested. As mentioned, one of the dead is 51-year-old police officer Arik Tali, who has served in the local police since 2010. Tali was one of the first police officers to arrive at the scene, which occurred around 2.30pm local time, when police received a report of shootings and a man seen walking around with Assault Rifle. A senior law enforcement official told CNN that the weapon the shooter was holding was an AR-15 rifle.
A helicopter documented from the air the arrest of a man, who was seen leaving the supermarket handcuffed, shirtless and with human-stained limbs. He was taken from the scene in an ambulance with police escort, when it is still unclear whether the man in question was involved in the shooting incident. The supermarket is still defined as an active crime scene, and many forces are still on the scene.
Also, during the night, local police tweeted about what sounded like another incident, in which the people who are about five miles from the current arena are asked to enter the hideout following a "report of an armed and dangerous person". However, during the night police officials noted that the second incident was not related to the massacre at the supermarket.