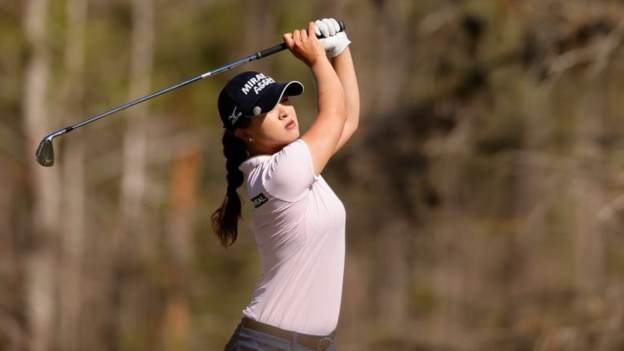 -13
Kim Sei-young (Kor);
-12
Ko Jin-young (Kor);
-10
Talla (Eng);
-9
Ernst (US), Thompson (US), Hull (Eng), Lee (Aus), Henderson (Can)
Full board of directors
World number two Kim Sei-young made six birdies to take a one-shot lead over top-ranked Ko Jin-young in the CME Group Tour Championship in Florida.
Kim, seeking a second straight win in the end-of-season event in Naples, finished on 13 under par after starting day three of a shot off the lead.
Georgia Hall kicked England back from its own bog at fifth with five birdies in four under-68s leaving all three of its beats behind the leader.
Companion Charley Hull shares fourth place.
Hull is pictured back with Brooke Henderson of Canada, Minjee Lee of Australia and Americans Austin Ernst and Lexi Thompson.
"Well, my job is really good. I have a chance to run everything," said Kim, who has had two gains since the closure of LPav coronavirus ended with her first major at the Women's PGA Championship.
"If I play well tomorrow, I have a good chance."