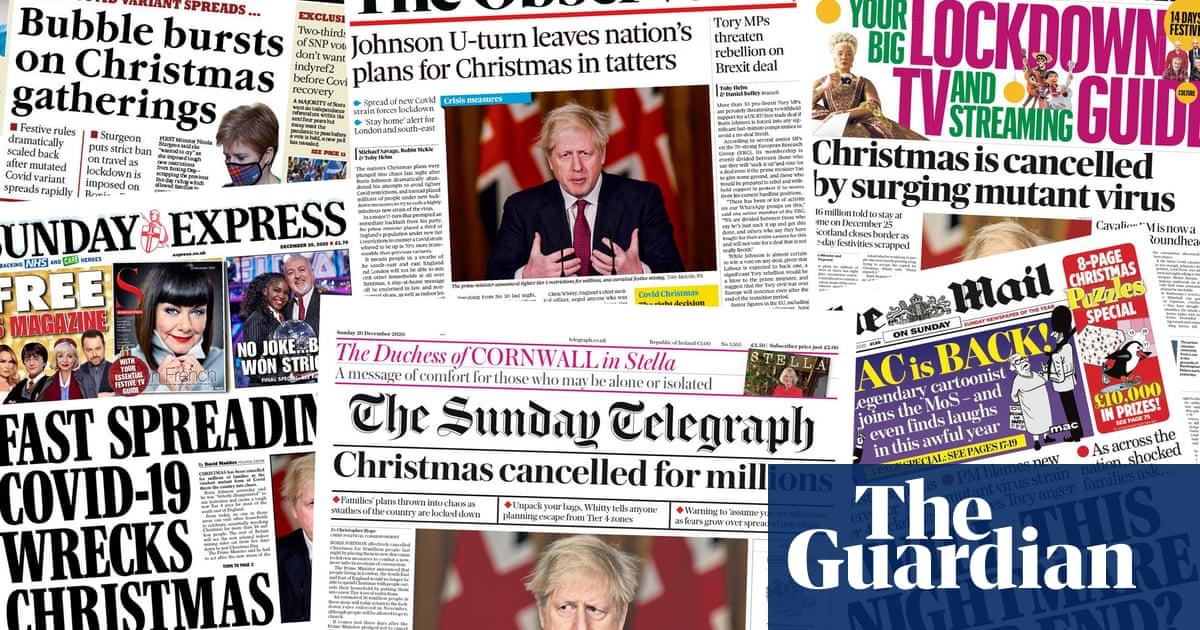 Maybe we should use this new version of Covid-19 as the "Grinch strain". As a coronavirus in mutated form, more infectious scrambling plans for festival gatherings, the front pages can do little to hang a bauble on the news. At the very least you could buy a copy of today's papers to keep you going through the moments of happiness that lay ahead of you. Puzzle specials, extra sections and more are available in the final editions that Sunday before Christmas…
The Post asks: "Will this nightmare ever end?", adding that Christmas plans have been "ruined for 16m" and confirming that the PM is " addresses the Conservatives' anger at the decision.
The Mirror blaming squarely at the feet of the PM with a combination of "Lost Xmas", "Boris U-turns yet again" and "Public fury over last gasp change of mind" – although he admits that " Covid's excellence threatens to wipe out a country ".
The Spectator "Johnson's U-turn leaves the country's plans for Christmas in tatters" and comments on his comments section: "The right decision – made at the right time and in the wrong way". There is a shower of colors with the special puzzles inside promoted above the top of the mast.
The Sunday Times it also highlights things with a promo for the "TV lock and flow guide" but doesn't get away with the story of the day: "Christmas is offset by a mutant virus". His political editor, Tim Shipman, reiterates Boris Johnson: "Cavalier PM is now a sad-hearted World" (Wikipedia is your friend here).
The Telegraph Sunday the same picture of Johnson and the headline "Christmas has been postponed for millions".
From Scotland, the Herald gives us: "How Covid 's new variety unfolds… Bubbles will burst on Christmas collections".
The Express "Covid-19 scatter Christmas spreads to Christmas" is given to the "scary new virus strain".