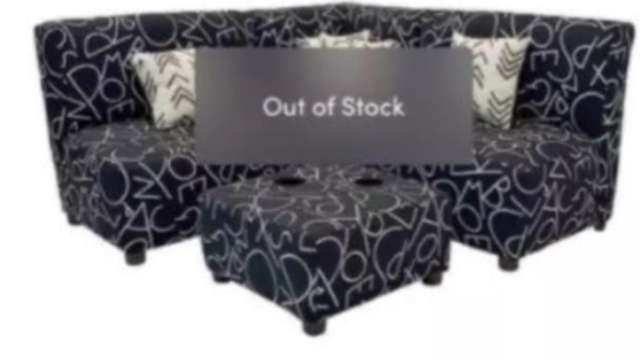 Funny or sad? We, too, have not yet decided. A Florida woman who decided to buy a five-seater Riche sofa did not believe she would get the complete opposite of what she expected.
"I was excited when I found her," says Pinky Jones, 36. "As a mother of five, it was just enough for our needs, and the price was really cheap, too."
In fact, just the price alone was supposed to amaze her – since where do you sell such a beautiful sofa today for $ 250? But the price did not raise Pinky's suspicion, nor did the time it took for the couch to arrive – ten weeks (!).
When the couch finally arrived, her husband and children were excited. "My husband immediately said it looked really small, even before we opened the cartons," Pinky says with a laugh. "Then when we opened them we discovered a tiny sofa. I was torn apart with laughter when I saw that it was a children's sofa, and obviously I would not have thought of buying it if I had known. I needed a living room sofa, and that's exactly what I thought it was.
"It's a little annoying because now I have no furniture in the living room at all, but I went through a sad childhood and for a while I was homeless, so that's not what will break me. At least we managed to buy a house."
Pinky shared the original living room photo she received, and she soon found out she had over 59,000 shares, but the bigger surprise was the fact that her family decided to raise money for a new sofa – and with the photo she shared on her Facebook page, the family raised $ 650 for it. For a new and … real sofa.
It is always best to see the furniture before ordering it, but if you still insist on buying furniture online, at least pay attention to the following highlights:
– Make sure you buy from a reputable chain
– Make sure the place you are buying from provides a warranty on the furniture
– Do a market survey and make sure you buy a product that is good enough
– Always look at the actual dimensions of the product, and make sure that it is not smaller than the size you want.