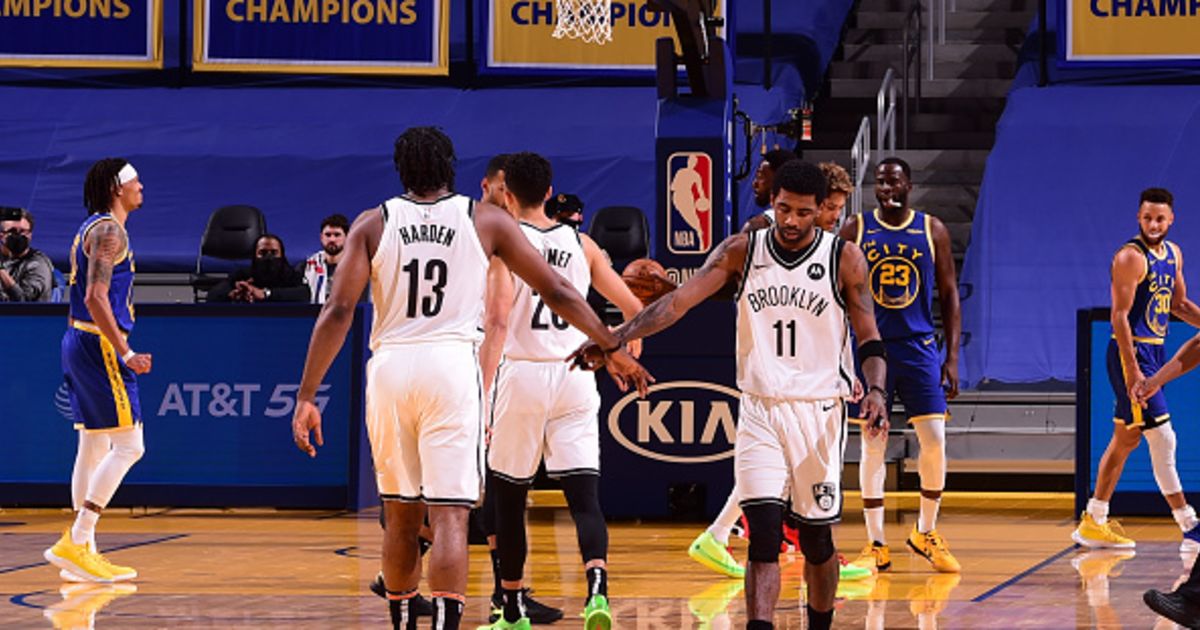 The Brooklyn Nets recorded a 117-134 victory over the Golden State Warriors tonight (Saturday through Sunday), at the end of a game in which Kyrie Irving once again finished as the leading scorer with 23 points, while James Harden once again led the team in assists with no fewer than 16 such. After the game, Irving revealed a conversation between him and Harden that took place in training a few days ago, in which the two agreed on an exchange of roles.
"We set it up four days ago. I looked at him and said 'you're the coordinator and I'm going to play as a shooting guard.' "It was not such a mystical conversation. He takes responsibility and does an amazing job. It makes it easier for me to play freely and make moves."
Although Harden finished as the king of assists in the NBA in the 2016/17 season, he is also best known as a points provider and in this category the "bearded" has led the best league in the world for the past three years, raising doubts about his ability, Kyrie Irving and Kevin Durant, who finished himself As a king he has curled four times in his career, sharing one ball while together on the field.
But since joining the Nets, Harden has taken on the role of game manager and his average assist in the Brooklyn uniform stands at 11.3, leading the entire league with 11 per game this season. "I came to this team knowing they have two special scorers," Harden explained, "I probably score when needed, but as long as I keep everyone involved and Kyrie and KD get the shots they want, it's pretty effective. Our problem is not on offense, "We are able to score in quantities. The defense is the story and it seems that we have managed to get into the rhythm lately, we just have to continue like this."
The numbers also prove that Harden's role as coordinator helps him and the team flourish: Harden became the first Brooklyn player to deliver at least 15 assists in two different games in one season, since Dron Williams in 2011/12, and along with the 19 points he scored, completed Game 20 of his career with 15 Points and at least 15 assists. At the team level, all of the Hunts' top five players scored 15 or more for the first time at the club since April 1999, when the team was still playing in New Jersey and Stephen Marbury starred in the media.
Tonight was the first time all 5 Nets starters scored 15+ points in a regulation game since April 16, 1999 against the SuperSonics.

The lineup that day featured Stephon Marbury, Kendall Gill, Scott Burrell, Keith Van Horn and Jamie Feick. pic.twitter.com/qf4Epafhrm

– ESPN Stats & Info (@ESPNStatsInfo) February 14, 2021